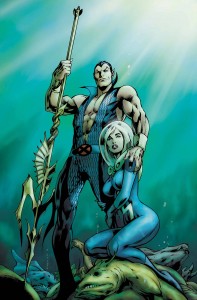 Fantastic Four #585 Jonathan Hickman (w) Steve Epting (a)
Every month I read this book and think to myself, there is no way Hickman can make this series any better than he already has. And then the new issue comes out, and it starts all over again for me. Hands down, this book is the BOMB!
Once again I would be remiss to insult anyone who is not reading this title. (In fact, yu can pick up the first hardcover collection of Hickman's FF run at Brave New Worlds for just $12 – no longer a bargain, but more of a steal at that price). If you are not reading this book, you should go see a doctor to find out what's wrong with your noggin'.
I know I recently wrote on this very column about how I feel Avengers Children Crusade is the best book Marvel is putting out right now. And do not worry, I am not going back on that evaluation, I am just adding Hickman's FF run to the second best title. It's that good.
As we inch ever closer to the climax of the "Three" storyline, all the pieces are beginning to get put into place. The gang is getting split up (beginning with last issue) and it just has the feel to a movie where everyone gets split up, and as they say their goodbyes to one another, you just know one of them is NEVER coming back.
I try not to give spoilers away in these reviews, and I am not going to start now, however this is all you need to know about FF #585, it has Galactus, Silver Surfer, Namor and a HUGE reveal about one of the Richards' children (and probably not the one you are thinking about).
'nuff said.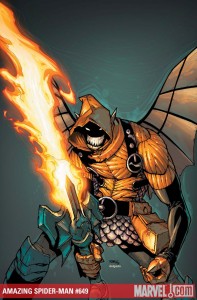 Amazing Spider-Man #469 Dan Slott (w) Humberto Ramos, Carlos Cuevas (a)
After my review of the start of BIG TIME, one-out-of-one Brave New Worlds customers agree with me (because they are the only one I asked), this new story is bringing back the fun to Spider-Man. But to be honest, did we ever doubt that would be the case with Slott penning the tales (don't answer that!).
As seen on the cover, the Hobgoblin is back, but which one. You will be surprised by the answer. Life is starting fresh as Pete juggles being Spider-Man, with his new sidekick, then its off to being relationship guy (and this one seems to be the "turtle" way of taking it slow. Marvel does not want to rush into anything and make this character seem "old").
Everything is starting to turn up roses for our favorite web-head, so of course something has to go wrong. Does it happen in this issue? Well, you are just going to have to read to find out.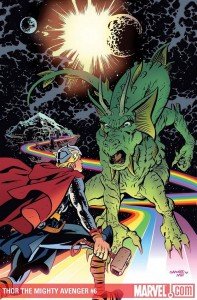 Thor The Mighty Avenger #6 Roger Langridge (w) Chris Samnee (a)
Marvel scored the natural hat trick this week with this release as once again this title continues to entertain. If you never got into Thor because of all the mythology, if you are not a reader of "super-hero" comics, then this one is for you. Trust me.
Every month this title just gets the job done. No need to know about continuity or read crossover titles, this is the only book in this run you need to read.
Langridge and Samnee are quietly crafting a true class and masterpiece right in front of our eyes. The nice part of each issue is it connects to a bigger puzzle with a little bit being revealed each month.
Samnee's style is a perfect compliment with Langridge's words. It's awesome!
This month's adventure was no different. It's a great, new and unique twist for the God of Thunder. With all the Thor titles out right now, this one can easily be overlooked on the rack. Do yourself a favor and pick it up, you will not regret it.