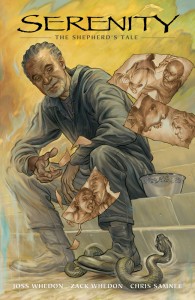 Serenity: The Shepherd's Tale
Joss Whedon, Zack Whedon (w) Chris Samnee (a)
Seeds Even though only 13 episodes plus a feature film were made, there was a lot of character development going on in the Firefly/Serenity world. That's how Joss rolls Yo. One story thread he kept watering was the tale of Book, Serenity's Shepherd. I figured that story to have been moot when the character met his demise in the movie. It did not.
Memento Just like the Christopher Nolan movie Memento, this story is told in reverse. It's a unique but awesome way to tell this story. It makes you as the reader make decisions on the character's true motives based on what you just read, only to have those inferences turned over once you turn the page and read the next panel. It's awesome.
Hey, it's the Mighty Avenger Guy! That's right, that is the same artist from Thor: The Mighty Avenger on this book. Samnee's style really compliments the grittiness of this tale. It's a perfect compliment.
What Do We Learn? Well, if you are like me there were always a couple of lines that
stuck out about Book. Funny enough, it was always Jayne who was bringing it up, his past that is. There is the episode where the Alliance actually saves his life, which is really interesting now that we read one of the big reveals of this tale. There's more, but I'd rather you go back and figure them out for yourself.
Is It For Anyone? I think so. I don't think you need to know the character's history to read this book. Obviously you will get a lot more out of the story if you have that rooting interest, but the brothers Whedon and Samnee tell a solid story nonetheless without all the back story. I would hope that if you were not a fan before, you would want to find out what all the hub-bub is about afterwards.
In Stock Now Release a week after the $19.99 Superman: Earth One, Serenity: The Shepherd's Tale is a bargain at $14.99. And possibly the best part besides another great Serenity story is that the purchase counts towards book club at Brave New Worlds. Check it out now at either one of our awesome locations.