It's friday again, we change the clocks on Saturday night at 2am, I give you another NSFW video, which some people may not believe that I should be posting on the page (but i think it's darn funny) and I pimp out a bunch of our friends and their stuff.
•It's time to change your clocks back this weekend. Here are some good dads singing a song about it(in the tune of We Are The World)…also there's some rocking guitar in this song). CLICK HERE
•Now if you don't set your clocks back someone in the world will go insane. It is a fact. This man went insane all the way over in Russia because someone somewhere forgot to change their clock at some point. NOW BE WARNED THIS VIDEO IS NSFW AND HAS A CRAZY NAKED RUSSIAN IN IT… with that out of the way CLICK HERE (if you dare! especially you guys up there at Byrd Alley…you know who you are.)
•Our old friend Eric Smith (whom we love with our all of our hearts!…and is super badass) from GEEKADELPHIA has written a book. He's also having a release party down at Tattooed Moms. I dunno if everyone is welcome but hey at least check out his book. HERE'S THE EVENT
•Another buddy of the shop (and actually since Eric Smith got hired to work at his job I guess I'm now pimping out co-workers) Doogie Horner, you may remember him from such tv as THIS, will be doing a reading from the book Everything Explained Through Flowcharts tonight at Brickbat books at 7pm. Rob and I will be too busy with First Friday madness to make it over there…so maybe you should go in our places?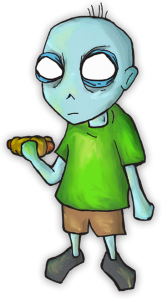 •Our buddy James Olstein has recently published a childrens book called Hey Little Zombie. We have copies at both locations or you can get them from the website.
•Someone sent me this awesome Mario Anniversary package design stuff last night. I want this so bad!!! CHECK IT OUT HERE
•Is the Superman from Superman Earth One emo? (via Superman Homepage …also via Rich from Willow Grove)

But I'm serious…I didn't read it and that's what I heard Katie Couric said…
•Lots of people love them some Spider-man. I am not really his biggest fan, and don't read his comics unless he shows up in books I do read, but never thought the guy was a dick. Cracked.com, though, does explain why he is one HERE
•I HOPE WE CAN GET THESE @ BRAVE NEW WORLDSes CLICK HERE
•Looks someone, T-Pain, kinda remade MJ's PYT into this genius piece of horribly auto-tuned magic trash CLICK HERE
•And finally enjoy the weekend HERE
Do you know what this means?