THIS JUST IN! This Saturday Old City will be receiving a visit from the creators of the IDW hit comic Kill Shakespeare! Hit the jump for more details…
Do you like the classic works of the Bard? Have you maybe just wanted to see his characters try to kill him? Did you ever wonder why they wore those weird frilly collars and puffy pants?…And wait, you haven't heard of Kill Shakespeare? (what's wrong with you!?!).
"An epic adventure that will change the way you look at Shakespeare forever.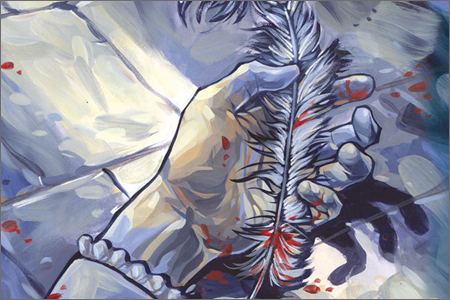 In this dark tale, the Bard's most famous heroes embark upon a journey to discover a long-lost soul.  Hamlet, Juliet, Othello, Falstaff, Romeo and Puck search for a reclusive wizard who may have the ability to assist them in their battle against the evil forces led by the villains Richard III, Lady Macbeth and Iago.  That reclusive wizard?  William Shakespeare.
A combination of "Fables", "The League of Extraordinary Gentlemen" and "Lord of the Rings", Kill Shakespeare offers a remixed re-envisioning of the greatest characters of all-time, featuring action, romance, comedy, lust, drama and bloody violence.  It is an adventure of Shakespearean proportions."
Come join the creators of the series as they stop by our Old City (45 North 2nd Street Old City) shop this Saturday afternoon November 13th from 4-6pm. They will have copies of Kill Shakespeare vol 1 (which collects issues #1-6 & just came out last week) for sale and will be signing your issues and answering your questions about the series.
For more information check out their