WELCOME TO YET ANOTHER FRIDAY! If you had off yesterday for Veterans Day I hop you enjoyed it. As of now the weekend is just a few crappy hours of work away. Let me share a few links with you to help you get through those hours.
•As I mentioned I saw a little known show from a band/guy that no one really knows…I mean they were big in Europe some years ago but they have no cult following of totally dedicated fans and no money to spend on a stage show. It was small and intimate setting…almost like sitting in your living room with a guy and his guitar. This is a video of my fave song from the night (this vid is from the Chicago show) and the best part happens at about 5:52 on the timer. CLICK HERE
•While I've blown your mind and you already have youtube open prepare to have the sports side of your mind blown again by little kids playing football and pulling off the best play I've seen since the final play in Little Giants starring the one and only Rick Moranis. CLICK HERE
•Oh did I mention Rick Moranis?! CLICK HERE or you can CLICK HERE and maybe CLICK HERE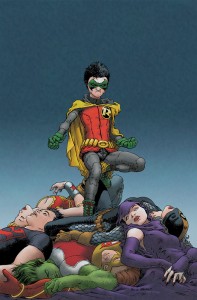 •Ok that's enough of Mr. Moranis (not for me tho…I'm just gonna spare you people who may not enjoy/celebrate his career like i do). Check out this sweet variant from an upcoming issue of Teen Titans. For a look at a few more CLICK HERE (via ifanboy)
•Last night I also found Zoltar. CLICK HERE
•Do you like comics like Parkers The Hunter and The Outfit? Do you love movies like L.A. Confidential? Do you play videogames? This may be just the thing you've been waiting for…CLICK HERE (via joystiq)
•I recently found a note on my phone from who knows when that lead me to this song. It's a song I used to love and haven't heard in a while but I'll go and assume that I was thinking about it or talking about it with someone recently. Anyway enjoy the video CLICK HERE
•Looking for something to do tonight in Center City that is probably better than blowing wads of cash at over priced bars and clubs? I know where I will be once BNW Old City Closes @ 8pm. The Sailor Jerry store over on 13th and Sansom steets. Why will I be there you ask? Well the Autumn Society is doing an art show (yea I know Sailor Jerry stole them from us…but I'm cool with it causea this) called A Sailor's Grave. Oh yea there's also FREE RUM if yer 21+!
•Looking for something to do Saturday afternoon/evening in Old City? Stop by BNW Old City and meet the creators of the Kill Shakespeare comic series! They will be in the shop from 4-6pm signing stuff, selling stuff and being all around good guys!

•Looking for something to do on MONDAY in CHINATOWN?! Come in costume (or not but costume is better) to the Troc for a free screening of Scott Pilgrim the movie! Geekadelphia is hosting another awesome Movie Monday there (if you missed Zombieland last winter you should be kicking yourself) and we will have all sortsa prizes to give away and it's a darn good movie! For the full rundown via Geekadelphia CLICK HERE
•This just in Gene Ha draws cover to Batman and Robin #17. CLICK HERE
•Ever feel Alone in Tokyo? CLICK HERE
•Remember when they made a big ado about JMS writing Superman and Wonder Woman?! Well he just quit writing them. This is what he has to say about it CLICK HERE (via Comicbookresources)
•Finally I leave you with this…anyone else kinda disturbed by the seemingly 90s teases coming from both of the Big 2 recently?!
–ONSLAUGHT is apparently coming back CLICK HERE
–DOOMSDAY is also coming back CLICK HERE
–AAAANND Marvel is also teasing something with the word Age in the title about mutants and some sorta end (in this case the word Final) that also has an Alpha in the title CLICK HERE
Here's to hoping that one of these is not sold in a sealed bag and that another one does not have a foil cover…