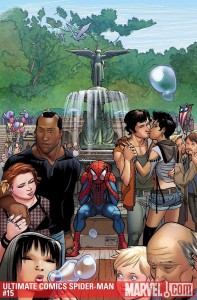 Ultimate Spider-Man #15 Brian Michael Bendis (w) Sara Pichelli (a)
True Confession Okay, I will admit that when it comes to Bendis he can sort of do no wrong. I think he could sit down and write a story about him having the worst headache of all time and I would go all in. I would buy the t-shirt, eat the Doritos, drink the Kool-Aid. But that's just it, he's that good. That being said, this latest issue of Ultimate Spider-man just might be one of the best of the run he has ever written.
Real World, Marvel Universe I will admit once again that the title is a little juvenile, but I think that is one of the reasons that it is so fresh, because it is juvenile but not in a little kid sort of way, but in an old-school Marvel sort of way. Peter Parker is a teenager going to high school with real problems, and then super-heroes problems. This book, and this issue, exposes them all.
Repercussions A lot of times when you read a book or story arc, after it's over, the repercussions are cosmetic. But by the end of the next issue or the one after that, everything is back to normal. One of the best solicits to sell books each month is to say this "issue changes everything." Well, I think things are changing now in Ultimate Spider-Man, as there are some real repercussions from the Chameleon taking over his identity.
Ultimate Universe A lot of people were upset with Ultimatum. And I know at the end of the day the story might not have been the best, but I think it was necessary. Created to tell a modern and "different" marvel story, a lot of the characters resembled their regular universe counterparts. The reset has helped change all that.
Jump Right In I would actually recommend reading the previous story arc before picking this issue up, if you have not done so yet. I don't think you will get the full effect of what happens in this issue, which has a lot going on in it, if you do not.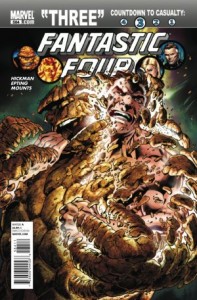 Fantastic Four #584 Jonathan Hickman (w) Steve Epting (a)
Just Fantastic Hickman's run is so sublime, so well told, so entertaining that when it is done, I want more. And isn't that the truest compliment to an artist, always leave them wanting more.
Cover Story I was admittedly a little nervous when I saw the cover to this issue that Hickman was doing a retread story, and in a way, I sort of feel like it is. Ben Grimm is Ben Grimm again. There are hitches however, which is good because we all know eventually he will change back. That's just the way it is in the comics.
What's Going On Well, while Aunt Petunia's favorite blue-eyed nephew is back and enjoying life, there are a lot of other things occurring in the issue. Don't forget, this story is part of the larger "Three" story in which one of the four die. And some of the seeds are laid as to who or what could happen.
Only Waits for One For as long as we all have known Namor, there is only one person he would ever wait for – Sue Richards. And of course, in this issue she has left the team to mediate an issue for Namor, who is forced to wait for her. Could this be the beginning of the end for her?
The Surfer Remember last time when the Silver Surfer discovered Galactus' body? Well, someone needs to be answering some questions. And you will never believe who is asking the questions. Hickman really knows how to set these issues up so that you HAVE to come back for more next time.
And One More Thing There is a panel where Ben and Johnny are doing a bunch of stuff together, including dinner with old friends. Wait until you see who Epting drew in there. It had to be written in Hickman's script. Either way, kudos gentlemen, kudos.