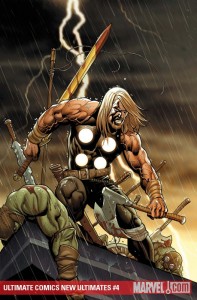 Ultimate Comics New Ultimates #4 Jeph Loeb (w) Frank Cho (a)
A Loki Good Time Despite the infrequency of this title coming out it's always a lot of fun as I feel Loeb has finally gotten his groove back (with apologies to Stella). This issue focuses on Loki's plot with his brother Thor, which I mean, is what he always does. The more things change, the more it stays the same.
Story Progressing The nice thing about this tale and the new Ultimate Thor mini-series is that it is filling in some backstory of the Ultimate God of Thunder, and there is an interesting reveal in this issue. I feel that Ultimate Thor is one of the more fleshed out different counterparts to his regular Marvel Universe version.
Making a Splash! Not sure what it was with this issue, but every other page feature a two-page Cho splash complete with a signed Cho! to it. Enough already, I get that you drew the issue, what else do you want, a metal? (Okaym snarkiness aside, Cho does a great job telling the tale with pictures).
Pissed! That's right, Thor is back from Hel and he is a little mad. But is it because his beloved Valkyrie took his place, or for some other much cooler reason? There are some possibilities here as I have never seen the God of Thunder this, agitated would be the word.
Speaking … of Valkyrie. Even though she is now "dead" and all that, it's time for her to take her rightful place as she gets an upgrade of a seriously pissed-off Hela. I mean, when is she not upset. She lives in the Underworld, that will play havoc on your hair and nails. Lane told me.
Don't Forget With all the fun going on in this issue, it might be easy to forget how awesome a role Loki plays in everything. The story begins from his point-of-view and by the end you have to wonder if we are all a part of his latest deception. I am not sure which version of Loki is scarier, costumed-up or suited-up?
Four Down And one more to go in this mini-series that has been in my opinion the best of all the new Ultimate Avengers titles to come out in this new Ultimate Universe world order.