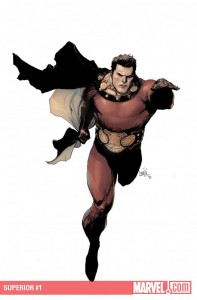 Superior #1 Mark Millar (w) Leinil Yu Gerry Alanguilan (a)
Another Superman We have seen this character so many times before, everybody else's Superman. In Superior, the title-character is Millar's Superman. However, as the book opens, nothing is as it seems.
Tease The book actually opens with some excitement and hooks (don't want to give to much away) but I was all sorts of interested with where it was going. And then BAM! Millar pulls the wool over my eyes (and where exactly does that saying come from?).
Politically Correct It's not too often your main character is handicapped, in this case the lead has MS. Granted, the story sort of takes that out of the equation which will probably upset a lot of people just for the sake of getting upset but story wise I am eager to see where it is all going.
Something Different If it walks like a duck and talks like a duck it must be Yu's artwork.  I am not sure why, maybe it's Alanguilan finishes but Yu's stuff looks really fresh and tighter in this issue.
Why Should You Buy This Issue Well for starters it's Millar and it's only $2.99. It's also got a little bit of everything in it, capes and real-life. If you ever saw The Last Action Hero and loved it, this book is for you. But don't think you know what the story is about just because of the reference. Pick it up, read it and let me know what you think.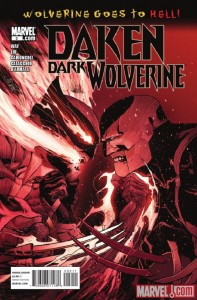 Daken Dark Wolverine #2 Daniel Way, Marjorie Liu (w) Giuseppe Camuncoli, Onofrio Catacchio (a)
Crystal Let me make one thing very clear, I am not a big fan of Daken, and I actually only enjoy Wolverine when he is in the team books. It has to be a really well-written tale to hook me in. Well Way and Liu have teamed up to give readers everything that is awesome about this character.
What I am Looking for In a Daken book is what I am getting in this issue, and I got a taste of it before back during the last run with a very special issue in which Daken sits across from Moonstone the entire issue, talking. Yeah, this one is similar to that story, but this time it's Mystique.
Hell's Bells Yeah, Wolverine is in hell and to be honest I am not really sure how he got here. This issue is one big set up to the end which I honestly did not see coming. But like life, the fun and ride is all in the journey getting up to the final page.
Something About The way this book is written and drawn it screams, well seduction. It's the word I feel best sums it up. Whether Daken is seducing another woman, or you and I the reader, it just sucks us in and not let us go.