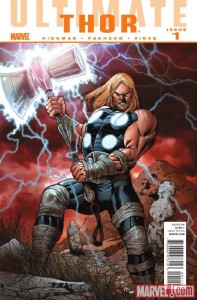 Ultimate Comics Thor #1 (of 4) Jonathan Hickman (w) Carlos Pacheco, Dexter Vines (a)
Whole Lotta Thor Ultimate Comics Thor #1 makes it five current monthly offerings for the Marvel God of Thunder. Granted three of those titles are mini-series, but still, that is some major shelf representation for a character that a few years ago was dead.
Finally Ever since Ultimate Thor was locked up in Ultimates @ and we were led to believe he was all crazy in the head, this is the story I have been waiting for, and the first issue did not disappoint.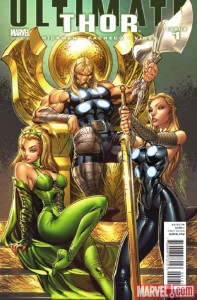 Go To Bad Guys When it happens to be Asgard, the big bad is usually Loki and he yet still maybe revealed as the architect (again) of what is occurring, but right now let's have some fun with the Nazi's shall we. How awesome is that?
Kicking It Old School The story takes place with Thor in mental custody when Dr. Donald Blake comes in to "help" him. I am not sure what is going to happen from these sessions, but we flashback to Thor's days as a younger God of Thunder in Asgard (maybe a Lord of Thunder), with his brothers Balder and Loki. And if this is not proof he's not crazy, or is he?
Blink,and You'll Miss It There is a lot going on in this first issue, as Hickman packs a whallop with information. You have to pay attention with time shifts and all. Luckily it seems that Pacheco has brought his "A" game on pencils and Vines is his steady self on the finishes.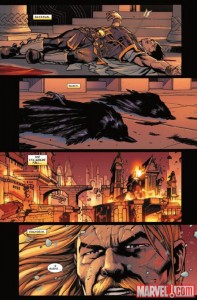 The Ninth Chevron When the Earth-bound head Nazi (don't want to give away who is leading this motley band but you may be able to figure it out) who is attempting to access the rainbow bridge the stones and description of what he is using almost seems like the lost Stargate door. Hmmm?
And For the Record For my money (literally) Thor Mighty Avenger is my favorite of the bunch. So. Much. FUN!