So do you like comics?! (if you said no then i am wondering why you are cruising around a comic shop website but we wont question you).  Are you looking for something to do on a Sunday that mat not revolve around a brown ball being thrown through the air?!  C.B.S. is here!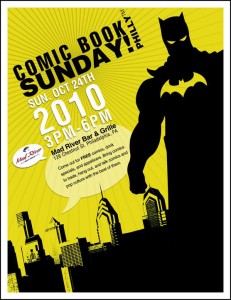 COMIC BOOK SUNDAYS IS HERE!!! SUNDAY OCTOBER 24th 3-6pm @ Mad River in Old City!

What is Comic Book Sunday? (Check out the original website HERE) But what does it mean for us? This is going to be the first meetup in hopefully a long line of monthly meetups with other comic fans and industry types to talk comics, characters, events…and who knows trade stuff and maybe win prizes!
Originally started out on the west coast and very quickly growing in size/scope/attendance this concept of talking comics, sharing theories, letting people borrow books/trading books and just in general geeking out is taking the east coast by storm starting here in Philadelphia. This stuff has apparently gotten so big over there in CA that they've been offered a panel at SDCC!
We have no idea how this first ever east coast CBS will go but let's make this thing kick some serious ass! Come on out to CBS next sunday and get yer comics on!
WHAT: Comic Book Sunday- Talkin' comics w/ comic fans (free!)
WHERE: Mad River in Old City
WHEN: Sunday October 24th from 3-6pm

Check out the Philly CBS Facebook page HERE( AND JOIN THE GROUP WHILE YER THERE!)