I've often wondered what people's comic reading/reading habits consist of so I figured I'd pose Five Questions to you and see if anyone would care to answer any of them.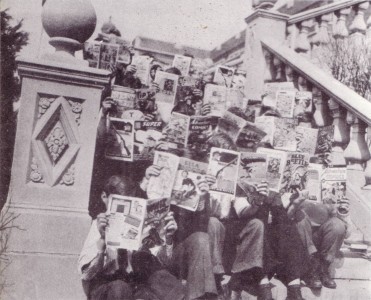 1. Where do you read your 'em?- On the couch, at your desk, lunch break, in bed, on the throne, train commute, in a favorite chair, with a group of friends and a 6-pack, etc…Where do you like to read your comics?
2. What music (if any) do you listen to?– Do you try to set a mood for the books you are reading? John Phillips Sousa marches for Captain America stories or maybe some sorta Artie Shaw jam for when you read Batman comics…or maybe your taste in music, unlike mine, has progressed beyond the 1940s.
3. Do you have a specific order in which you read your comics? Do you blow through all of your Marvel Comics then read your DC issues for that week or do you flip flop between the two? (are you currently scoffing at the idea of buying comics from BOTH of the Big Two publishers because one or the other is the only way to go) Do you always have a comic that you save for last because you know it will be the best book that week and you don't want it to taint your enjoyment of others?
4. Do you flip through a book from front to back before you read it? (I get crap for this all the time) Do you treat yourself to a trailer of sorts to the comic you are about to read by flipping through the issue from front to back (do you even look at the last page before you read it?) to get yourself even more excited to read it? Or is this just a huge No No in your world?
5. How many times do you really re-read your comics? Either that week or as things go along in the story or whatnot do you go back and re-read 'em?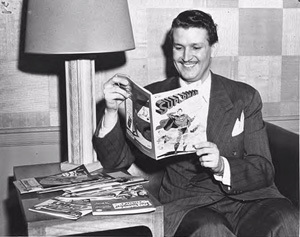 BONUS #6 (Great Odin's beard do i love the Prisoner)
6. Do you read slower because you are taking in the art and flow of the story? Do your friends finish comics faster than you? Are you taking the time to admire line work and not just blowing through the words with a passing appreciation of the art? Do you enjoy a good letterer and a guy who know how to layout a page so it feels like the art is moving?
My answers:
1. I love to read my comics at night in my bed. Though I have a problem of reading them while I am unpacking them and George yells at me (Rich used to yell at me about ruining things for him but now his schedule is different). Also in the john.
2. I don't have a specific soundtrack to reading comics. Though I do tend to listen to sometime that is more instrumental than full of lyrics. Sometimes it just comes down to hitting shuffle and letting the music be my guide.
3. I tend to read like groups. Avengers, Batmans, X-Mens as I go. I do tend to read all the Vertigo books in a group, if there's more than one out that week that I picked up, and that tends to happen last. But any week that the Goon or Scalped comes out those go last…and if they are both out that same week Scalped go last and Goon goes first.
4. Yes I flip. I love to flip. This is mainly what I get "yelled at" for doing. Spoilers be damned. Just looking at the pictures can't spoil what characters say!
5. I re-read my comics very rarely. Usually just to remind myself what happened I will do a skim through, especially if there has been a delay in the book. I have found myself re-reading the First Wave comics each month because I am not all too familiar with a large chunk of the characters and their interactions. Also my roommates have free reign to read my stack of comics.
BONUS:
6. I take my time. I love comics. Rob reads them real fast.