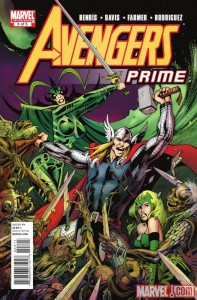 Avengers Prime #3 (of 5) Brian Michael Bendis (w), Alan Davis, Mark Farmer (a)
Off My Chest So let me say that when this series initially started, I was not a big fan of how the story began. Part of the issue may have been that the Siege was over and I already have read Avengers #1. Part of the issue (and I can't believe I am going to be critical of Bendis) was how the characters were written. Anyway, I obviously got over it.
Last Time Out We saw Steve Rogers, Iron Man and Thor scattered across what seemed to be the nine worlds of Asgard. You know they are no longer on Earth because there is no Taco Bell to be found for miles – must be Hel!
The Gang is Back After two issues of being mostly separated, the gang finds there way back to one another. Thankfully as well because part of the potential fun of this issue is getting these characters back "together" again after all the disassembled, civil war and secret invasion events.
Lost Ain't Got Nothin' Well, it seems that the two people pulling all the strings are finally revealed, but to what end? Like any good story, Bendis leaves you a few crumbs, answering a couple of questions while also adding some new ones.
Retro It seems that a lot of the old school artists have been coming out of the woodwork once again to draw monthly titles (albeit mini-series). Davis and Farmer re-team for this book and their stuff is as strong as ever. They have been doing covers for awhile (check out their Fantastic Four stuff since Hickman took over) and I am glad to see them back with in a monthly.
Finally, Some Fun Tony Stark's predicament seemed to have the most potential for goofiness, and we are well rewarded with some fine hijinks re: ogres and a dragon. C'mon, what more could you ask for.