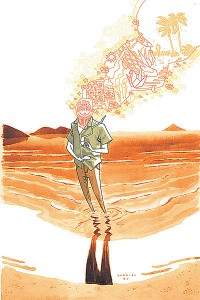 Daytripper #10
Fabio Moon and Gabriel Ba (w, a)
Can't Believe Its Over I was tempted to write about Daytripper each month it was released, but held off until the finale because it would just be a gushfest each month, and I am glad I did wait, because the Brazilian wonder twins saved their best for last.
They Killed Kenny, You Bastards! When Daytripper #1 first came out I was hooked. Its the story of an obituary writer named Bras who is living life vicariously through the lives of the people's obits he is writing. Until the end of the issue, when he dies. And the dies at the end of each issue afterwards until #9, when he does not.
A Life Less Ordinary I always try to write spoiler free, so I don't want to give too much away with what occurs in this issue, suffice to say, the 10 issues in my opinion have been the journey of Bras life which culminates with the events of the last book and panel. It is such a bittersweet tale, done tremendous justice by the Brazilian twins.
More Good Stuff from Rio If you have not tried anything from the twins Moon and Ba might I suggest De Tales, Casanova and even Umbrella Academy. Their talents are on full display in these titles as well.