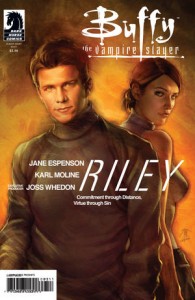 Buffy the Vampire Slayer: Riley One-Shot Jane Espenson (w), Karl Moline, Andy Owens (a)
Answers The best part about this issue is it fills in some of the blanks re: Riley's involvement with Twilight during the just completed story arc.
Kudos to Espenson whose "Retreat" story arc was less than stellar. She rebounds with an awesome tale and really captured the two characters voices, especially Marc Blucas' intonations as Riley. I know that sounds impossible with a comic, but while I was reading it, it sounded like him in my head.
Bonus The story does not just take place from Riley's POV but from another character's as well (a certain vampire w/a soul) that also assists in understanding the "Twilight" story from another perspective.
Married Life Remember when Riley returned in Buffy's life, with a wife in tow? Well Espenson does a real nice job of giving us the witty back-and-forth we have come to expect from an episode or issue of Buffy with Riley and his lady.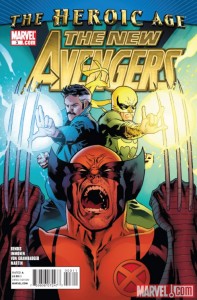 New Avengers #3 Brian Michael Bendis (w), Stuart Immonen, Wade Von Grawbadger (a)
It's the Power Girl of the Marvel Universe It's the best way I know to explain how much fun I have when reading New Avengers. Granted it is a different kind of fun than Palmiotti and Gray's run on PG, but good times just the same.
Mystics This story has its roots before the Siege storyline in the first volumes of New Avengers, but continues in the latest title with Doctor Strange, Voodoo and Hellstrom trying to keep the Eye of Agamotto away from the big bad – wait until you see who this is.
Banter I love the nonsensical conversations they have during battle, like everyday they are turning away demon spawns in the middle of NYC as Spidey, Thing and Ms Marvel have a conversation about Ghostbusters while saving the day.
Clobberin … Oops. The Thing does not want to use his trademark moniker with his new squad, much to the disappointment of our Friendly Neighborhood web-head.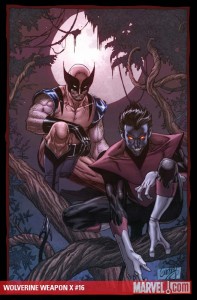 Wolverine Weapon X #16 Jason Aaron (w), Davide Gianfelice (a)
Say Goodbye to my Little Elf This is Wolverine's goodbye story to Nightcrawler. It was really well done.
Faith Aaron really writes the Wolverine-Nightcrawler relationship well taking us back to key moments in their lives together with new scenes that make sense and build layers to their already strong friendship.
Top of the Hill Kurt's will is the spur to action in this story, taking Wolverine to the top of a mountain where he gets another lesson in life and faith from his furry, blue buddy. The story is not about getting there, but the journey to get there.