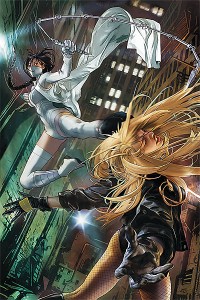 Birds of Prey #4 Gail Simone (w), Ed Benes, Adriana Melo, J.P. Mayer (a)
Awesome Flashback The entire issue has Black and White Canary doing the fisticuffs tango, however early in battle Dinah flashbacks to her early days with the JSA and Benes pencils this awesome moment with Adam Scott. It was really cool and just wanted to share it with all of you. You are welcome.
Chick Fight Speaking of the aforementioned fight, damn those two are kicking the bloody shite out of each other in this book. Good times.
Smashing Good Time Of course Dinah can't be using the sonic scream the entire time, because where is the fun in that. However she does get a chance to use it and when she does, let's just say the pictures say a thousand words.
Fitting In There's a moment where the Penguin has the rest of the lovely ladies (and Hawk) of Birds of Prey right where he wants them. Dove does something uncharacteristic for her which forces Huntress to respond with a great line – " You know, for awhile, I wasn't sure you were going to fit in."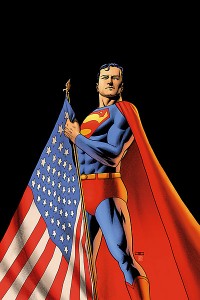 Superman #702 Michael Straczynski (w), Eddy Barrows, J.P. Mayer (a)
At First I thought this week's issue was going to be a little lame, the entire concept does not excite me. However in JMS I should trust because Wow, this was a really good human issue.
Keep It Simple We have experienced this type of story telling from Straczynski before, a very simple pace which has translated into really excellent story telling. The second issue of the "Grounded" arc is more of the same awesomeness that we really have come to expect from JMS. Whether he is writing Spider-Man, Thor or the big guy, it seems to always translate.
Pretty Cool Superman comes across an old guy with a cough who is guarding an old, out-of-service car factory. He seems to take Superman's appearance in stride and just asks him to fly because he has never really seen that before, for real. Barrows does an amazing job of showing the emotion in the man's face when Superman comes off the ground.
E.T. Even though he is on a walkabout across America to get in touch with the everyday man and Joe the Plumber, Superman still has some time for other beings I will say in this issue. It was actually a really cool way to execute the story in my opinion.
Wait For It I have this feeling that this arc will become legendary very quickly. Issue two of Grounded was even better than the first and I have a feeling that it will continue to top each previous issue in the months to come. In JMS I Trust.