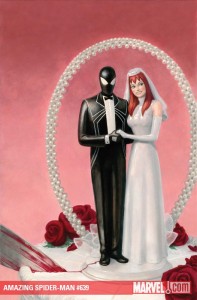 Amazing Spider-Man #639 Joe Quesada (w); Paolo Rivera (a)
Getting Closer To answers that is as the second issue of One Moment in Time starts to connect the dots as to what exactly went wrong between MJ and Peter, in this new Mephisto reality.
Just Add Some Zombies OMIT does not have zombies really, but I love the storytelling device Quesada uses to alter and add scenes that have already occurred. It just feels natural, as if that is what characters would have said.
Styling Blending the distinct styles from two different eras could have gotten really confusing but Rivera's classic art makes the shifts seamless.
Family MJ reveals what she hoped to get out of marriage to Peter, a glimmer of what we saw (and flashback to) in One More Day.
R.I.P. The issue comes back to the moment where Aunt May is about to die from One More Day. She codes, and then … fade out – grrr argh. Of course she does not die.
I Like I know there are a ton of One More Day haters, and as much as I dislike the concept, I loved the way it was written. This story is starting to reveal what exactly happened, although in the end I don't think it will reverse One More Day.