Since my whole innernette presence has been slacking as of late let's start this linkblog off with some NSFW music videos.
•First off I give to you a young girl's rock serenade to one of the greatest science fiction writers of all time…Ray Bradbury. CHECK IT OUT HERE
(also i am aware that this video has been out for about a week and that means most everyone has seen it…i watch it just about every day tho 'cause it's so damn catchy!)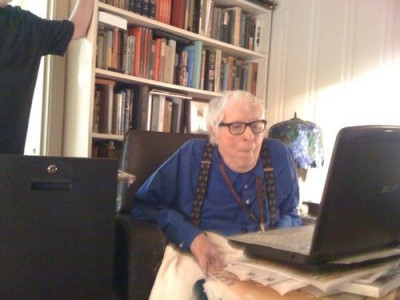 This is a picture of the man himself Ray Bradbury watching the video of that song…look at that face! (this picture come from the daily what)
•Cee Lo Green (musical great and actor extraordinaire) has recorded and made a sweet video for his newest song. It's so darn catchy that you will be humming it for days and possibly even singing the "curse words" out loud without even realizing it. Remember this song is NSFW cause it's called F**K You. CHECK IT OUT HERE
•Here's another music video (hey when i'm not reading comics i am listening to music…heck the two go hand in hand) brought to you by the magic of Funny or Die. Ted Leo and the Pharmacists join forces with Philadelphia comedian great Paul F. Tompkins…and there is even a reference to a great American in this video as well. Ok now without further ado here's Ted Leo + the Rx's Bottled In Cork. CLICK HERE
•This is the only way I will ever listen to Justin Bieber…and this video kinda scares the hell outta me. CLICK HERE
•I woke up to a question on my phone today:
Someone madea a real neat half hr batman short film. Want me to send you the link?
I don't think I've ever said no to a link (maybe that'd explain all the viruses my old pc had) I haven't had a chance to check it out yet, nor do I know how long it will stay up online, but you can check out this fan film right now by CLICKING HERE
•For those fans of Futurama here's a great list of the 25 greatest moments in that show! CHECK IT OUT HERE (thanks Christine!)
•Kotaku posted an awesome animated trailer to the Mega Man Online game…while I have no interest in the online game this just makes me wish someone in Japan would just make an epic Mega Man movie or series. CHECK IT OUT HERE
•Samus has always been that hot girl in the sweet armor that kicks the crap out of alien squidbrains and stuff like that in Metroid…now this live action commercial for the new Metroid game has used a real hot girl. Also the game looks awesome. CHECK OUT THE TRAILER HERE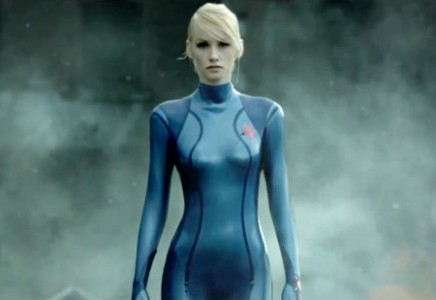 •We all love Robert Kirkman's The Walking Dead, right?! And we are all aware that it's gonna be a great tv show, right?! AMC has officially released the, sweet sweet, footage that was leaked from Comic Con last month. CHECK IT OUT OVER HERE
•I enjoy me some Ghostbusters and this guy loves it enough to make a kick ass diorama out of Legos. CHEK IT OUT HERE (over at Slashfilm)
•Our buddy James Olstein draws a monster everyday. THEY'RE WORTH CHECKING OUT
•I love the Goon. You know this by now. Here's an interview from earlier this week with Goon creator Eric Powell where he talks Goon Movie stuff. CLICK HERE
•Did someone say Frankenstein and Side Show at the same time?! CLICK HERE AND LEARN SOMETHING
•Well Philly it's just about the weekend. So I will leave you with an image that will sum up most of your time tonight and tomorrow night. Also I would like to WELCOME incoming Freshmen starting classes soon (that is happening soon isn't it)!