Avengers Children's Crusade #2 (of 9)
Allan Heinberg (w), Jim Cheung, Mark Morales (a)
What began as a novel mini-series event looking for the Scarlet Witch has turned into Marvel's version of the Cannonball Run as the Avengers, Young Avengers and X-Men are all racing each other to find her first. First prize you ask? Thought into oblivion. Second, a nice piece of IKEA furniture.

Buffy the Vampire Slayer #36
Joss Whedon (w), Georges Jeanty, Andy Owens (a)
It's been awhile, but the season eight finale begins here in Last Gleaming Part 1 penned by none other than Whedon himself. The last five issues of the season plan to be one "hell" of a ride. Enjoy.

Deadpool Pulp #1
Mike Benson, Adam Glass (w), Laurence Campbell (a)
Let's see, what kind of style have we yet to read Deadpool in, Pulp of course! So here it is.
Freedom Fighters #1

Heroic Age: One Month to Live #1
Various (w), Various (a)
A novel approach by John Ostrander and Rick Remender among others, what would you do to change the world if you had one month to live? It's a new weekly Marvel event featuring the heroes of the Marvel Universe.

Incredible Hulks #612
Greg Pak (a)
Dark Son Part One begins here as Incredible Hulks will publish twice a month to hopefully begin paring down all the Hulks in the Marvel Universe.

Scarlet #2
Brian Michael Bendis (w), Alex Maleev (a)
So in the first issue Scarlet comes up with the revelation that the world is corrupt, and she is going to fix it. Dare I say, "You say you want a revolution."

Taskmaster #1 (of 4)
Fred Van Lente (w), Jefte Palo (a)
It's about time the Taskmaster received his own mini-series, wouldn't you say. Seems his former associates are not to happy that he is now working for Steve Rogers, so they but a billion-dollar bounty on his dead. I guess it will only be a matter of time before Deadpool pops up in this story.

Thor For Asgard #1
Rob Rodi (w), Simone Bianchi (a)
A new series for the God of Thunder, and his world is asunder as Odin is missing and Balder is dead – what the frak in the name of the rainbow bridge is going on here? Pick it up to find out.

Wolverine #1
Jason Aaron (a), Renato Guedes (a)
Just like your student loans, Wolverine is all about consolidation, so this month here he is in his brand-new title. Did you know Wolverine's soul is in hell? Well now you do, pick up this issue to find out more.

Batman Cacophony TP
Kevin Smith (w), Walk Flanagan, Sandra Hope (a)
Kevin Smith's return to the DC Universe collects all three issues of this mini-series featuring a new big bad known as the Onomatopoeia.

Classic GI Joe TP Volume 9
Larry Hama (w)
Collects issues #81-90 of the classic Marvel series. Remember, knowing is half the battle.

Invincible TP Volume 13 Growing Pains
Robert Kirkman (w), Ryan Ottley (a)
Collecting Invincible #66-70 and Invincible Returns #1. The world is in ruins after the battle with CONQUEST. So of course this is a perfect time for the Viltrumite War to begin.

Siege New Avengers Premiere Hardcover
Brian Michael Bendis (w), Stuart Immonen, Mike Mayhew, Marko Djurdjevic, Bryan Hitch (a)
Collecting New Avengers #61-64, New Avengers Annual #3, Dark Reign The List New Avengers and New Avengers Finale. Steve Rogers has returned, and is he pissed at Norman Osborn.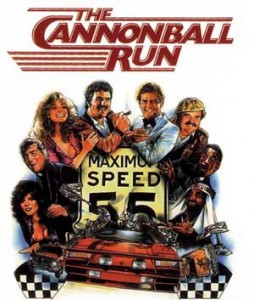 And here is a link for the Cannonball Run trailer.