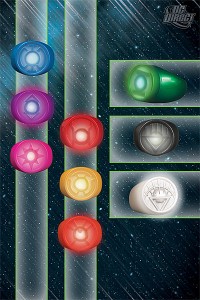 If you are like us at Brave New Worlds (and we are really only talking about Lane), you need something more to get your geek on for Blackest Night, and the plastic ring set we are selling sometimes is just not enough.
Have no fear, because in brightest day, and blackest night, Brave New Worlds will be carrying a brand-new Blackest Night Power Ring Spectrum Set. What makes this one so special, and different than the one you shelled $30 out for earlier. Well, we are glad you asked, because these bad boys light up Yo!
These rings light up once they go on your finger – how cool is that? And includes all nine rings including the newest White ring!