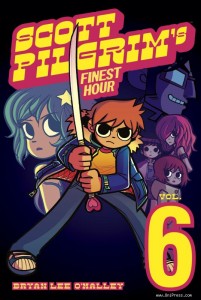 Scott Pilgrim's Finest Hour Bryan O'Malley (w & a)
When Last We Saw Him Volume 6 picks up from where Volume 5 left off, with Scott Ramona-less and avoiding his destiny of facing off against Gideon.
What a Strange Trip It Has Been The first five volumes were a lot of fun, but for some reason volume six seem to have the most heart of the story, probably because it brings everything together.
It's Written Like a Movie The hero does some soul-searching. Old friends pop back up. It's an epic film waiting to happen. Oh wait, it is happening. Next month.
Save the Best for Last It's like the Star Wars films, each lightsaber battle tops the previous. Scott Pilgrim's fight with Gideon tops all of the ones that came before, even the twins and Todd (who I think was the most fun – probably because he was a vegan).
Spoiler Free It's really difficult writing a review without giving anything away, and I hate to give anything away. Suffice to say, you will laugh, you will cry and you will try to get extra man credits before the end. It's a lot of fun.
Ultimate Comics New Ultimates #3 Jeph Loeb (w), Frank Cho (a)
Finally Some Answers Remember when the Defenders popped in Ultimates 2 and then the next time we saw Valkyrie in Ultimates 3 she was all powered up. Well Loeb tells us why.
How Are They Going to Get Out of This When last we saw our heroes, the chicks went all-Amazon on them and captured those men. Well, obviously they get out of it, and Loeb does a swell job writing himself out of that potential hole. It was definitely well thought out.
Thor's Back This is not a spoiler since it was part of the solicits for the issue. What is a surprise is who takes his place in Hell. Wait until you see who it is.
Best Line When Tony Stark recovers from his injuries, he asks the following of Hawkeye and Danvers – "… why don't one of you get me a dry martini with two olives and three vicodin … we've got a city to save." Yeah Tony!