I KNOW that everyone is excited to celebrate the birth of OUR COUNTRY this weekend!!! Let's see what links I've got to distract you while you finish up your friday and start the weekend!..Hit the jump
•CLICK HERE FOR A CLASSIC SIMPSONS CLIP ABOUT THE FOURTH OF JULY!!!
•Come and get your comics cheaper this SUNDAY (12-4pm) and MONDAY (all day regular business hours) @ both Brave New Worlds locations!(shameless pug for ourselves). For details CLICK HERE
•Predators comes out next week (midnight showing or earliest showing possible at the Riverview Theater WHO's W/ ME?!?!!) Be sure to take advantage of the 17.76% off on Sunday and Monday to get the Dark Horse Comics prequels and then watch these clips from the upcoming smash hit (and future movie i watch everyday) CLICK HERE
•While we are on the subject of action movies here's an interesting look at how action movies have lied to us about how guns work. It's an interesting read and silencers don't work… CLICK HERE
•
A friend of the shop and Geekadelphia Dustin Johnson posted this picture yesterday on the innernette. I don't know which issue of JSA it is from but look at the shock on even Dr Fate's face! HAHAHA!
•In World Cup news please continue to call the sport soccer and don't let anyone talk down to you and say that it is actually called Football…to read about this CLICK HERE
•Also I am cheering for Paraguay now that the USA is outta the tournament. (my good friend and cafe owner is from Paraguay so that's my connection). Paraguay plays Spain on Saturday @ 2:30 in the quarter-finals. If you are in Philly and want to watch the game with a real true Paraguay fan then head over to Arbol Cafe (2nd & Poplar st in the Northern Liberties) grab a cup of coffee and order a lomito and cheer on the team! Be sure to tell Oscar and Beth that Brian from the comic shop says hello and GO PARAGUAY! (since i will be busy selling comics while the game is on). Read about the match. CLICK HERE
•Now that I have talked about soccer for a little bit here's something ancient art and science related. CLICK HERE
•More science!!! CLICK HERE (you can listen to this an audio track of one!)
•Let the Right One In (straight outta Norway!) was the most amazing thing to happen to Vampires since I drunkenly realized that Twilight was actually a spin-off of the Wayans Brother's smash hit White Chicks. I was really nervous for the American studios remake that everyone knew was coming sooner rather than later until I saw this trailer yesterday and then went on to read this interview with the director over at Aint It Cool News.
•In other Twilight news Warren Ellis has some interesting little bits of whisky and Red Bull fueled opinions on this whole TEAM aspect of the film franchise. CLICK HERE
•Check out this movie trailer. CLICK HERE
•This one is amazing! CLICK HERE
•Andy Serkis, famously Gollum from Lord of the Rings or my fave role of King Kong in the recent remake [he did all the motion capturing]) will be playing Caesar in the newest edition to the Planet of the Apes saga (this time a prequel)…CLICK HERE
I wonder who will play Dr. Zaius?!…any suggestions?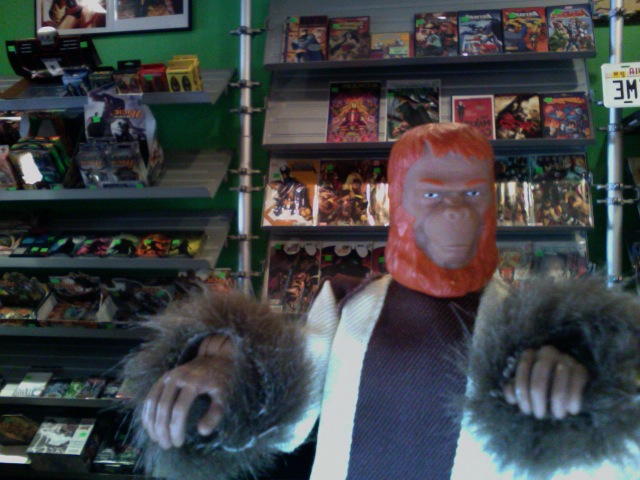 •Now everyone go out and enjoy the 234 birthday of America! CLICK HERE or HERE