I myself will be knee deep in a move (who knew hardcovers would way so much?!)… but if you are free, in Philly, like Pabst n drawing (at the same time!) and just so happen to be 21+ then I've got a suggestion for ya. Hit the jump to see what's goin' on…
You might know of this little group that I mention from time to time here known as the Philadelphia Cartoonist Society. They have done shows in our lobby. The like to party. They draw good. Well they also host bare knuckle PICTIONARY at legendary Bob and Barbara's in South Philly. They will be doing just that this coming Monday June 28th. Check out the flyer they sent me!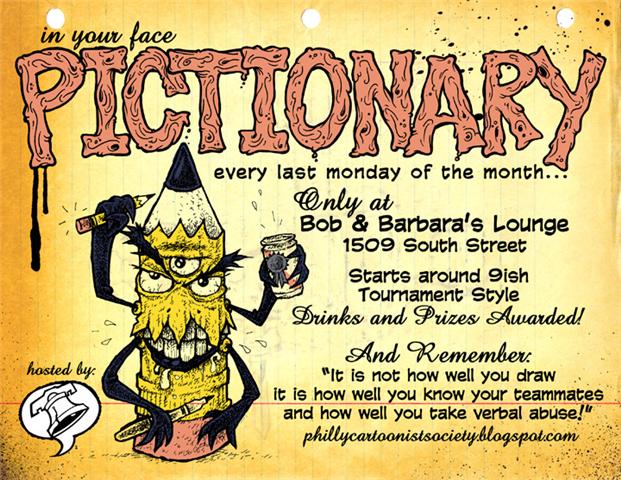 This is how things have been explained to me:
"Teams of 3 and 4 compete for braggin' rights and free hooch!
Drawin', drinkin', c'mon it doesn't get any better than that!
Monday night at Bob and Barbara's, the unofficial headquarters of your hosts the Philadelphia Cartoonist Society.
B & B's is located at 1509 South Street in Philly.
We start things up around 9ish and keep it going as long as people wanna play!"
And apparently they will make fun of you and your team so be prepared to get a good ribbin'!