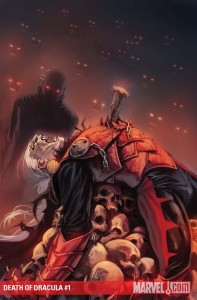 The Death of Dracula Victor Gischler (w); Giuseppe Camuncoli, Onofrio Catacchio (a)
Political Intrigue Gischler pens a sublime tale from one of Drac's offspring's, Janus, point-of-view. The result is true mastery that could have easily played out in a court room or the Senate. Instead it has to do with Vampires. Story is complete with power plays, betrayals ('natch) and more.
Who Knew? That there could be so many different Vampire sects (as Gischler writes them). And they each play a specific role in the issue, and the coming assault on the Marvel Universe which will hit the X-Men first, and apparently hardest.
I am Sucker Pun intended. Camuncoli's pencils are once again superb. Not sure if you remember his earlier work on Dark Wolverine during the Dark Reign, but he has move onto to 40-pages of bliss. Not sure what it is, but I just love what he does on the page.
Zombie Story All Over Again While it does seem like the Vampire stories are being played to death in movies and TV, the phenomenon is just now taking a hold of mainstream comics. Leave it to Marvel to take advantage of the way. And this story promises to be just as interesting as any of the other bloodsucker tales, if not more.
Didn't Spike Own That? So why now you might be asking of the "supposed" death of Dracula. Well, Drac's other son Xarus, has gone and embraced science and technology – that never ends well.
More to Come Thankfully, this one-shot is just the tip of the iceberg for this story, which will be unfolding in the pages of X-Men (and possibly other titles) in the month's to come.
Pick of the Week This was one of the last books I read this week, but left me dehydrated like a thirsty man walking across the dessert in the middle of a heat wave, that never ends. It's that good.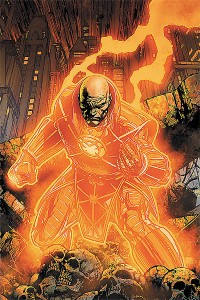 Action Comics #890 Paul Cornell (w), Pete Woods (a)
Norman Osborn Has Returned Sort of, as Lex Luthor now stars in Action Comics. I am surprised it took DC this long to give old chrome dome his own book, but it appears worth the wait.
All Is Not As It Seems If you have been reading any DC Comics over the last few weeks, then you have seen the previews of this issue and the one thing that really stuck with me was Lex's dinner companion. Could it really be her?
Waiting for the Right Time It's interesting that this is the time they decide to focus on Lex. He's always been a polarizing character, but now he is bordering on obsessive, which should make for an even more fun read – even if it makes him appear a little too much like Norman Osborn.
While the Mouse is Away Cornell does a nice job of updating a certain "overgrown boyscout's" whereabouts during his current quest. It is also fun to see how he keeps tabs on other powers in and about Metropolis, while he attempts his latest foray into Lexness.
Reminiscing On page 10, Lex harkens back to the glory days of his being an Orange Lantern, with all his new buddies. It's interesting to see how he remembers the time, with his arm conveniently around a certain someone. Check it out.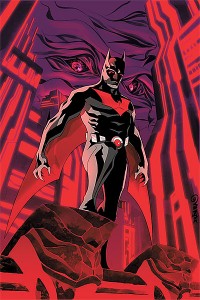 Batman Beyond #1 Adam Beechen (w), Ryan Benjamin, John Stanisci (a)
The Future's So Bright … Terry McGinnis is back. And so is Bruce Wayne, Ace and the Wall. So buckle in kiddies and enjoy the ride.
… I Gotta Wear Shades The book opens with some familiar foes from the animated days – Spellbinder, Inque, the Jokerz, which is a nice reminder of the new Gotham we now live in.
New History Beechen does a terrific job of making the book accessible to those who do not know of the animated series by having the first story all about some of Bat's old foes. Mad Hatter and Two Face are referenced as it appears someone is taking out his old rogue's. And why is this a bad thing?
Some Perspective Benjamin does a nice job with the storytelling, giving the readers a nice view of just how cavernous Neo-Gotham is with some excellent points-of-view of battle and Batman in flying action. Not always an easy thing to do on such small panels.
Larger World Early in the issue, the current JLA makes a pitch for McGinnis membership, which I thought was a nice touch to show how the world outside this new Gotham is moving on. It's something the Superman/Batman annual from a few weeks back also did nicely.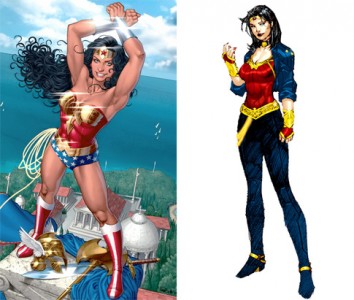 Wonder Woman #600 Gail Simone, Geoff Johns, Amanda Connor, J. Michael Straczynski (w), George Perez, Amanda Connor, Don Kramer (a)
Another Day Another milestone issue at DC Comics as this time it was Wonder Woman's turn to shine, and shine I think she does. Each one of the anniversary edition's had its own voice. I think this one came in second for me overall, behind Batman #700 and ahead of Superman #700.
Wrap It Up Simone does a nice job closing the chapter on Perez's awesome run from the 1980s, bringing us up-to-date on the current whereabouts of the important characters in that run. It also starts off rather nicely with a girl-power super moment of some characters you might be surprised at.
Aw Yeah! Linda Carter writes a very nice introduction for the issue, and echoes some very important aspects of the character that we may forget from time to time. Straczynski closes out the issue with his own letter to fans explaining his thoughts on the character up until now, and where he is looking to go with her.
Speaking of Which Wait until you read his addition to the Wonder Woman lore. I am definitely interested to see where this is going. And while I may be a bit confused as to exactly what is what, I am looking forward to the ride from the writer that made me care about Thor.
Some Fun Connor actually writes and draws a section with Power Girl (of course). Like many I was disappointed to see Power Girl end because it was one of the "fun" books out there. Connor brings that sense of whimsy to her part of the book, and grounds the character in a way that has escaped many.
New Era And then there is the Straczynski-Kramer joint. I am definitely intrigued. I am sure it's going to shock a lot of people, but I think it's a daring direction to go and if you take the time to read his afterword, you will understand a little better what he is trying accomplish. One thing's for certain, this ain't your grandmother's Wonder Woman anymore.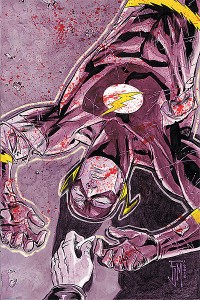 GUILTY PLEASURES OF THE WEEK Three issues in and I continue to enjoy Geoff Johns and Francis Manapul's The Flash. I've never been a big fan of the Flash (oh he can run fast), but I have always liked Barry Allen and love the interplay Johns and Manapul portray with he and Iris. Plus, the current story is a mystery to itself tying directly into Brightest Day.
Space, the Final Frontier If I have said this once, I have said this a thousand times, IDW's Star Trek mini's are awesome. The new series which starts today, Star Trek: Burden of Knowledge, features the TOS crew during the original mission and Scott and David Tipton just have all the character voices down pat. And Francesca Manfredi's pencils should make David Messina jealous, as they are very authentic and on the mark for likeness.