First, there was a lot of good stuff out this week. And in order to stay sane and not write something about everything, I decided to choose three books that I "really" liked this week. Jump for my picks.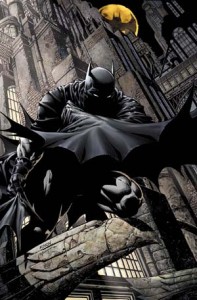 Batman #700
Grant Morrison (w), Various (a)
Man Love I know, I know, this marks the third-straight Morrison release I am gushing about, but it is truly worth it. I am going to start wearing my I heart Grant Morrison t-shirt for now on.
Laws of Physics I love a good time-travel story. And while this one is not the classic in the sense that the main character travels through time, the story definitely does, and Morrison's quirkiness pays huge dividends with this anniversary issue.
Epic Storytelling This anniversary tale was all about Batman's legacy, and what better way than to show the story through several different Batman eyes – Bruce, Dick, Damian and even Terry and beyond.
Pictures Say a Thousand Words Loved the combined efforts of all the artists. Frank Quietly, Andy Kubert, David Finch and even that Tony Daniel all put in huge efforts. There is usually a disconnect with so many artists on an anniversary book, but each took their part and drew to perfection.
Final Thought Golden Age Riddle and Catwoman. 'Nuff said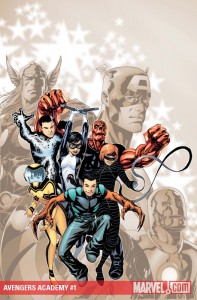 Avengers Academy #1
Christos Gage (w), Mike McKone (a)
Fool Me Twice For the second-straight week I picked up a book that I believed had no business being good, and was pleasantly surprised with what I read. This Heroic Age does not equal a revert to old-time storytelling.
New Characters Generally when a new book launches with new characters we are usually thrust right into introductions that generally show the characters super powers and dysfunction. I guess this is supposed to make us care. Does not always work. Gage however takes a slightly different approach, a human one and it hits a home run (that's baseball for those of us not into the sports).
All Messed Up This new Heroic Age is showing the human side of our characters, warts and all. Yes, the heroes are back in charge, but there is an aftermath from Norman's reign and the stories are telling the tales of that clean up. It's awesome.
Best New Character For me, it was Veil, who incidentally the store begins through her eyes. Love her ability of turning into a gas, and can not wait to see what else she can do. There have been other characters with similar abilities (New X-Men's Dust), but Veil might be more fleshed (no pun intended) out in the end.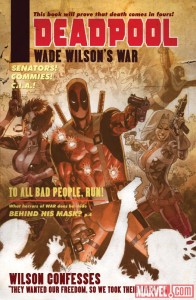 Deadpool Wade Wilson's War #1
Duane Swierczynski (w), Jason Pearson (a)
Man Crush Part 2 I am a little bias when it comes to Swierczynski's stuff, not just because he is a nice guy, but because he has the writing chops. That being said, I so do not enjoy reading Deadpool, but Duane made me care once again about character I could care less about.
Supporting Cast Bullseye, Silver Sable and Domino. And just what the heck is going on with Domino – can't wait to find out.
Boot Imprint Not sure if kudos should go to Pearson or Duane, but there is this one scene where Deadpool is testifying at a Senate hearing with his feet up on the table – and on the bottom of his boots where the manufacturer logo would go, there is a fat ol' FU. Sweet touch.
Honorable Mention This Week Daredevil was awesome, tying up the latest story arc as it heads into Shadowland. Uncanny X-Men is the latest chapter in Second Coming as events unfold at a frenetic pace with a nice reveal about Hope and some great cameos. Also X-Men Hellbound gets into the meat of the story in the search for Magic. Not sure if she or these other characters will become players again in this battle, but it is a fun ride.