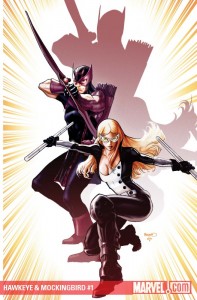 Hawkeye & Mockingbird #1
Jim McCann (w), David Lopez, Alvaro Lopez (a)
The Cold Open Page one opens with a chase and in the bottom panel just sneaking in is the arm of Hawkeye, bow cocked, ready for action. And action is what we get as the book opens with Hawkeye and Mockingbird in pursuit of some evil doers. It's a nice way to start a book.
New WCA Like a fool, I of course thought the new WCA was short for West Coast Avengers. I was wrong. W.C.A. is actually the World Counterterrorism Agency (D'oh) which Mockingbird is running with some old S.H.I.E.L.D. agents (but of course). It seems ol'Mockie has some issues with being an Avenger.
Everything Old is New Again While giving the duo a fresh start, McCann still manages to play in the mind that is Bobbi Morse and the damage the character has suffered over the years. Case in point, bring back Crossfire to cause some issues and then throw in a sibling of Slade and watch the hilarity ensue.
Going Mental Seeing Jaime Slade brings back memories Mockingbird is only too eager to bury. That's not going to end well. However, to get a glimpse into her broken world, flip to page 14 and check out what the Lopez brothers drew. Probably my favorite panel of the week.
Dominic Fortune To all those who wondered if Howard Chaykin ruined this character's reputation (kidding), he resurfaces as a part of Morse's new squad. And he seems like a dirt bag. I like him.
Adventure Comics #12
Paul Levitz (w), Kevin Sharpe, Marlo Alquiza, Marc Deering (a)
Kicking it Old School If Levitz name on the cover as author was not enough of a giveaway, then "Superboy and the Legion of Super-heroes" written on the bottom should have revealed all as this title has now turned into tales of yesterday.
It's Unique With two monthly Legion titles now and with Levitz penning both of them, it's nice to see two different books running in Adventure and Legion. Legion appears to be happening in the now while Adventure takes advantage of the book's roots and goes back to Superboy's early days in the Legion.
Lost Episode of Smallville This issue did feel like a lost episode of the long-running television show, the earlier seasons not the current run. Levitz does a nice job revisiting the characters and Sharpe's pencils tell a nice story.
Legion of Sluts! Kidding. But it is funny to see how many of the Legion's ladies are swooning all over Clark in that funny suit of his.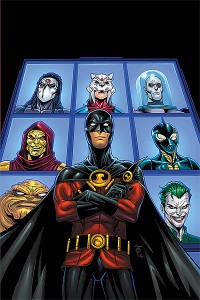 Red Robin #13
Fabian Nicieza (w), Marcus To, Ray McCarthy (a)
New Mission This book so did not feel like a bat-title when I opened to the first page. Everyone was smiling and happy, and in uniform. If Bruce was really dead he would be turning in his grave. But it was definitely a nice change for the character.
New Gotham Order With Dick and Damian on one mission, Tim goes on another to take down Lynx and her attempts to lift her Golden Dragons to prominence and fill the void from the gang truce that Drake has forged in previous issues.
To Elope or Not To Elope? Remember a couple of issues back when Vicki Vale conned Lucius Fox's daughter, Tam, about her relationship with Tim. Well some of consequences of her reveal are dealt with in this issue.
Not Who We Think She Is? Of course it would be too easy for life to go smoothly in Tim's new world. Lynx has a reveal, but even more interesting is his response to what she has to say. And what is the deal with that last panel? Hopefully issue #14 has some answers.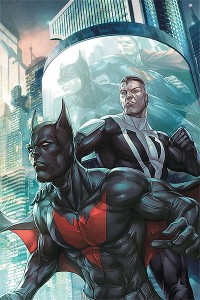 Superman/Batman Annual #4
Paul Levitz (w), Renato Guedes, Jose Wilson (a)
Is It Just Me? Or has Levitz become the new go-to guy at DC writing every other title? Whatever is going on, this week he had his mojo because both titles he wrote hit this list. Maybe he is drinking some of Brian Michael Bendis' kool-aid?
No Expectations Seriously, I had none coming into this issue. But every time I read a panel with Terry McGinnis dialogue I could not help hearing Will Friedle in my head. Call it nostalgia, but this issue really worked well for me.
The Future's So Bright – NOT! Wow, I so did not see Metropolis falling apart this way. It was an interesting decision and mix to get future Supes into the book, and I liked all the twists.
Last Thought Yes, this issue got me and is now part of my collection. Damn you Levitz!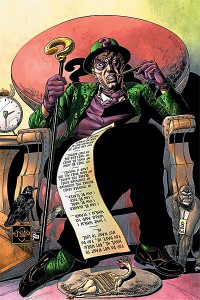 Joker's Asylum II The Riddler
Peter Calloway (w), Andres Guinaldo, Paul Fernandez (a)
Arkham Revisited The latest Joker's Asylum has seemed to recapture the same verve as the first series, with a witty Joker narrating a tale of one his pals. For a one-shot, Calloway does a terrific job of writing an interesting story that builds a mystery that one would expect from the Riddler, but not in the way we are used to.
Why Did It Have to be Snakes? Sorry, had an Indiana Jones moment there. Replace snakes with women and now you understand Ed Nigma's pain in the issue, to the utter delight of Mr. J – 'natch.
Riddle Me This Reader Yes, there is a riddle for the readers in this one that I did not figure out. Granted I am motoring through the read pile so the answer was not that obvious to me and will warrant a second read-through. The real question is, who was that mysterious player that gave the Riddler what he wanted, therefore getting what they wanted? Confused, read the issue.