Will you sway the tide of battle?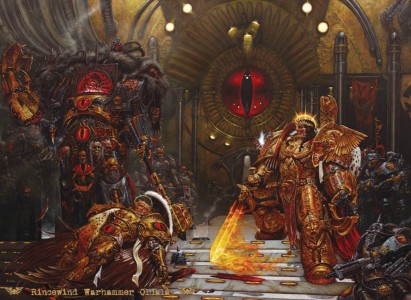 Imperial Worlds in the Galactic South are caught in the crossfire between Saim Hann Elder and the Orks of Octavius.  The forces of the Imperium unite to defend the embattled planets from the aliens.
This is where you come in.
Come out to Brave New Worlds Willow Grove on Saturday, July 10 for a special Warhammer 40K tournament all-day long (11 a.m. – 7 p.m.).  Open gaming and painting will be available, with additional entertainment and contests.  Prizes available for all participants and spectators!  All are welcome! Only 1 Spot Remaining, Contact Dave Immediately to Register.
There is a participant fee $15.
What You Will Need Registration Fee ($15), Your Army (2-Color Minimal Painted), Six- Copies of Army Roster, Dice and Most Recent Army Codex.
You May Also Want Tape Measure, Templates, Objective Markers and Additional Figures.
Spectators will be welcome to participate in a "speed painting" competition for 1st, 2nd and 3rd Place prizes.
Participants will wage war in short campaign based tournament which will last for Three Sessions.
Sessions broken up into three (3) 850-point battles and three (3) 200-point kill team battles.  Each 850-point battle will last one (1) hour, each kill team battle 30 minutes.  Battles not concluded at expiration of time limit will end immediately and victory points counted.
Scoring cards also provided.
E-Mail Dave with questions.