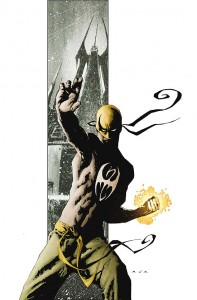 Immortal Iron Fist: The Last Iron Fist Story TP
Collects Immortal Iron Fist #1-6
Writers Ed Brubaker, Matt Fraction
Artists David Aja, Travel Foreman, Derek Fridolfs, Russ Heath, John Severin, Sal Buscema, Tom Palmer
What's It About Lots actually as someone is plotting to take out Danny Rand and steal his power. Meanwhile, we get to see the Iron Fist's through the ages, including one who returns and becomes a player. And if that is not enough, Rand is summoned back to K'un-Lun.
Creative Team Skinny Brubaker and Fraction is collaborative dream come true while Aja's pencils give the story a gritty style that makes the pages lived in.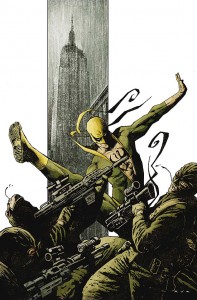 Cameos How about some Luke Cage, Misty Knight, Colleen Wing, Daredevil and the Night Nurse.
History Lesson We get to learn about how the Rand family has always been tied to the Iron Fist, and not simply due to fate.
Go To Villains It's not like they are Ninjas or Russians, but Hydra generally serves the same purpose in the Marvel Universe. Have to love us some Hydra. Hail Hydra.
Christopher Nolan a Fan? Early in issue one there is a scene in the Rand boardroom that reminds me of one in the Dark Knight film. Hmmmm?
Another Movie Inspiration Hydra has a giant mechanical spider to attack Iron Fist. Reminded me of the giant mechanical monstrosity from the monstrosity of a film Wild Wild West.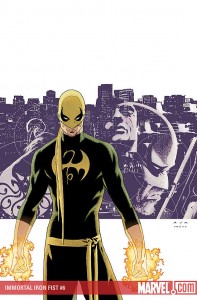 Have to Keep Up and Pay Attention As the action moves back and forth through time and locations. I love stories like this, the ones that pull you in before you realize that you hooked.
Chicks with Swords Because there is nothing cooler as the climatic battle has just these participants waging war. You will have to read however to find out who and why.
Best Cover It's a toss-up between the two used for the collection – Aja's number 1 or 6 , both excellent choices.
Final Word Danny Rand makes his return to the Marvel Universe. Terrific story-telling and not a typical "capes" book that regular and casual readers alike should enjoy.
Brave New Worlds Stock Both stores have the trade paperback in stock for just $10.00 (while supplies last).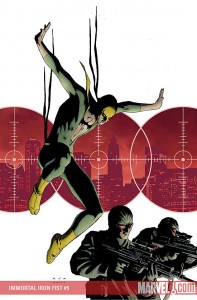 The Saga Continues Unfortunately the Powers That Be over at Marvel cancelled Iron Fist about a year ago, but not due to the excellent storytelling that was Brubaker, Fraction and Duane Swierczynski. We have all five trades plus the Immortal Weapons finale in stock. As an added bonus, the first three volumes have been collected in a giant-size omnibus – which is also in stock.