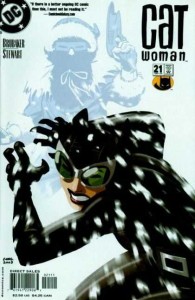 Catwoman #21 (Volume 3, September 2003) Ed Brubaker (w), Cameron Stewart (a)
Brave and Bold Team-Up Not quite since this issue pairs Gotham's own Catwoman with Keystone's Captain Cold.
Things to Come The opening splash page teased how much fun the issue had in store for readers with Catwoman and Cold running down subway tracks in front of an explosion.
This is Not Your Usual Noir Story Brubaker's character of Slam is mentioned s Selina is attempting to track someone down off a lead that he provided.
Tourist Attractions While Selina plans her heist with Cold (its a long story, so read it already), Holly visits the sites of Keystone, including the Flash museum.
Classic Caper Brubaker litters his narrative explaining the heist while it occurs. Tip to the hat of all the old classics.
Not So Fast Although the story takes place in Keystone, there are no appearances by you know who, although Jay's helmet is a pivotal maguffin to the story.
Last Panel Reveal While the story has to do with a Gotham and Keystone City resident, someone from Metropolis makes a guest appearance at the end – Lex Luthor, and now I have to find issue #22.
Notable Issue Upon its release, Wizard Magazine tagged this as their "Book of the Month."