Looking for something a little different to show your comic geekness? Well you are in luck this week as both Brave New Worlds locations will be receiving hot off the trucks two very different items from Marvel and DC Comics to show your love. Jump for the details.
Marvel Resin Desk Figurines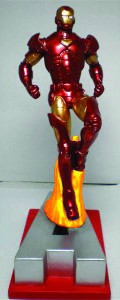 Mongram presents the first of its M-A-R-V-E-L Resin Desk Figurine series. Each figurine stands atop a letter base then when all six are collected will spell "Marvel." How clever.
The first three figurines out this week will be Dr. Doom, Hulk and Iron Man.
DC Heroes Comic Cover Tin Sign
Perfect for wall mounting. Classic Golden Age covers of DC Comics' legends – Superman, Batman and Wonder Woman reproduced on heavy-gauge tin signs measuring 7 1/4 x 11.
Choose from Superman #9, Sensation #11 (Wonder Woman) or Batman #1.