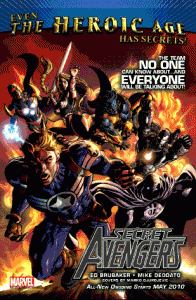 Secret Avengers #1
Ed Brubaker (w), Mike Deodato, Rainier Beredo (a)
I'm Putting the Band Back Together Well, sort of. Commander Steve Rogers is now the nation's top cop and his first act is to put together his very own Secret Avengers squad. As he puts it after their first successful mission, "we won and we are getting away without anyone knowing who we are."
Something About Cap Not sure what it is, maybe its Brubaker or maybe its just the blue eyes and blonde hair, but Rogers makes me care about this new squad he has put together. And I SO did not care about this team when it was announced. Kudos.
Fade to Black Wow, I so did not see that last panel coming. Interesting and of course, it left me wanting more, the sign of every great issue.
Picture Says a Thousand Words Or something like that. Fresh off his Dark Avengers run, Deodato transfers his awesome storytelling abilities and the issue is the better for it.     It is sort of fitting that this team takes place in the shadows since Deodato likes to work in that space.
You Can Quote Me Great first issue. It was terrific seeing Steve Rogers back in action, and making a relevant impact on the Marvel 'verse.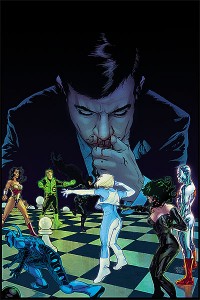 Justice League Generation Lost #2
Judd Winick, Keith Giffen (w), Joe Bennett, Jack Jadson (a)
If a Tree Falls in the Woods But now one is there to see it, did it really happen? Or if Maxwell Lord falls in the woods, and no one know who Maxwell Lord is, did he really fall? Makes you think doesn't it?
For a Minute There I thought Lord would just be content on getting away with erasing everyone's memories of his existence. Boy was I wrong.
I Feel Like I am Watching Lost So are you telling me Wonder Woman really did not kill Maxwell Lord?
Whipping Boy How much does it suck to be Booster Gold. The rest of the former JLI rates to be ruined but Booster not so much. Of course he is going to win the pennant now like they did in Major League.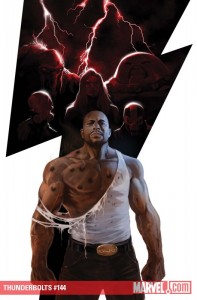 Thunderbolts #144
Jeff Parker (w), Kev Walker (a)
New Sheriff in Town Never got into the Thunderbolts before with all its history but decided to give this issue a shot as it takes a new direction entering the Heroic Age. Glad my instincts paid off on this one.
What Heroic Age? I like how they decided to keep the program running despite the end of the Dark Reign and yada, yada, yada. I especially love the fact that Luke Cage is now running the team.
I am Not a Crook Yeah right I am turning my back on this group. I especially am impressed that Steve Rogers is not holding a grudge allowing so many past stooges a second shot, ala Moonstone, which we are all the better for.
Quote of the Issue "Back in the day we had a lavish training area … and now we practice in a seagull toilet." Guess who.
Man-Thing This issue has Man-Thing, freaking Man-Thing. 'nuff said.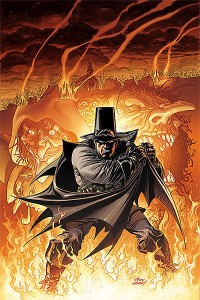 Batman: Return of Bruce Wayne #2 (0f 6)
Grant Morrison (w),Frazer Irving (a)
Plot Thickens Now this issue felt a little more like a Morrison tale. Not with all the obscure character references, but with all the twists and turns. Still, part 2 of the return only made me more interested in what the heck is going on.
Did You Catch the Jewelry Bruce's new girl has some interesting jewelry. Wonder where she got that from?
Reason No. 267 Why You Never Piss Off a Witch Because they just go ahead and curse your family.
End of Time So the rescue team has gone all the way to the end of time to figure out where Bruce is. Only nine minutes left until oblivion. Yeah, this will end well.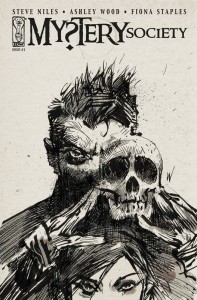 Mystery Society #1
Steve Niles (w), Fiona Staples (a)
Not a Niles Man Really never able to get behind any of his other stuff, but not for a lack of trying. Finally, Niles has written something specifically for me. Mystery Society #1 is a terrific premiere issue that introduces us to the basic concept of what's going on.
Happy Couple There was a terrific banter between the Mystery Society's couple, Nick and Anastasia, that made me feel like they were old friends returning after a long time. Nice job Steve!
Area 51 Yes, another book takes a daring move to take us to Area 51 and we are so the better for it. Trust me.
That New Independent Book I am Going to Push in the Store In the tradition of the Highwaymen and Red Herring, add Mystery Society to your reading stack.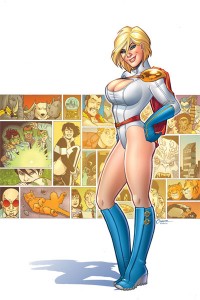 Power Girl #12
Jimmy Palmiotti, Justin Gray (w), Amanda Conner (a)
All Good Things The creative team of Palmiotti, Gray and Conner say goodbye to Power Girl with this Valentine to the fans as they revisit the past year in one exciting issue.
The Floating Head Returns 'nuff said.
Funny Books While not every book can pull off the fun that is Power Girl, I always feel DC knows how to balance and achieve the fun in its books and this book did just that. And I am going to miss it. Tear …