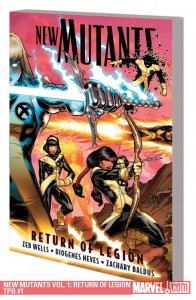 New Mutants: Return of Legion TP
Collects New Mutants #1-5
Writer Zeb Wells
Artists Diogenes Neves, Zachary Baldwin
What's It About Original New Mutants squad from the 1980s brought back together by Cyclops with Cannonball in the lead.  Shan and Dani go missing and the new reformed team is sent to investigate.
Why It's Fun Magik is back and is just having loads of fun messing with everyone's minds, especially Magma.

Everything Old is New Again Legion also makes his return to the Marvel Universe in this five-issue reintroduction of the New Mutants and their greatest nemesis.
Space-Time Continuum Story opens with Magik jumping from the past to forewarn everyone of the impending incident.  She also references it many times with Magma, but you can't tell if she is still messing with her or not.

Who's Missing Warlock does not appear until the final issue and Cypher does not return, but his return is only an issue away.
Astonishing X-Men Moment Early in Issue #1 when Cannonball, Sunspot, Magma and Magik get ready to board the blackbird, they have a suit-up and hangar-walk through homage that was similar to Astonishing X-Men #1.

Oh No He Didn't Upon rescuing Dani in jail, Cannonball faces a difficult decision on whether to let her out to help, or keep her behind bars to try and protect her from an omega-level threat.  His decision definitely backfires.
Creative Team Skinny Wells seems to have a handle on writing the team, while Neves pictures are strong and consistent.
Best Cover Bob McLeod's Issue #1 Variant
Final Word Definitely for fans of the New Mutants from back in their heyday, but also a great introduction to Marvel's second mutant family.
Brave New Worlds Stock Both stores have the hardcover and trade paperback (released this past week in stock), plus select issues including #1 (@ Willow Grove).