Brave New Worlds has seen the light!

LAMPS! The future is lamps! And what a bright future it is! It's like some sorta Brightest day or Heroic Age…but you plug it in and it makes your room brighter. The lamps come in all sorts of looks to fit your style. We've got lamp shade designs ranging from ones featuring the kung-fu great Bruce Lee all the way through classic Marvel Comics characters and covers!
Wondering how much a lamp like this one will cost? Maybe this'll help: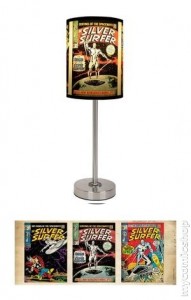 Lamp+Shade = $60
Shade Singles = $40
Stop in and check em out! Make an existing lamp sweeter or just make any dark room brighter.