Today is the big day. Iron Man 2 hit screens across the Eastern Seaboard @ 12am EST and Rob n I were there with bells on. Also it's another friday so that means I am going to spend the next hour accumulating all sorts of links and pictures and post them here for you to peruse at your leisure.
•I'm gonna start off by linking us over to Geekadelphia (i havent done that in a while) for a video of our buddy Dustin Johnson (writer for Geek, lover of comics [most saturdays you can find him in the Old City shop] and share-er of my last name) talking comics. CLICK HERE
•This guy looks like he's just a copier! Though apparently he's a big deal where no one has the internet….CLICK HERE
•If you talk to me ever then you know that I love Cameron Stewart's artwork. Yesterday he posted a few new drawing he did on his blog…I figured I'd share and then you can peruse his blog at your own leisure. CLICK HERE…also if you feel so inclined I would love it if you bought me this (because ive been good i promise) CLICK HERE
•I think Predators may have some competition for movie with Robert Rodriguez's name attached to it now…check out Aint It Cool New's posting of the trailer for MACHETE (NSFW or kids) CLICK HERE
•I regularly fart around on youtube by just typing in words and seeing what comes up. This wasn't one of those videos but I have no idea how I came across this…I only know that it's real cool. CLICK HERE
•Darth Vader can now tell you where to go if you have a Tom Tom GPS unit. Just be sure you learn his style of giving those directions. Here's a look behind the scenes of his recording session. CLICK HERE
•Now that we got Iron Man 2 out of the way (remember that movie…yea it came out last night…the innernette has ruined our attention spans…NEXT!) we await Thor. I have another image of Thor in costume. Actually it was a costume concept that was sooooooo close to being chosen until they went with the current comic costume.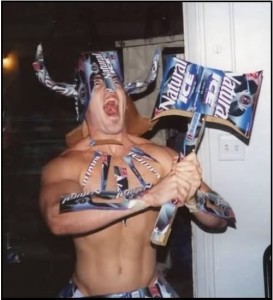 CHECK THAT OUT! ––––––––––––––––––––––––––––––––––—->
•The Onion's AV Club posted this the other day. I loved it and I hope you do too. CLICK HERE
•Tonight is also FIRST FRIDAY! Be sure to stop by Old City and see the robot show Domo Arigato that is being put on by the Philadelphia Cartoonist Society (or PCS) and maybe even participate in the Art Crawl up 2nd Street.
•Iron Man 2 side note w/ no spoilers. They threw in some really nice little comic references that weren't even mainstream comics references let alone Marvel ones. That made me happy.
•This game (via IGN) looks cool and has a Kiwi bird as a main character. Looks like Metal Slug 7 on my DS will now have some competition for attention. CLICK HERE
•Devo will have a new album out soon. The AV Club brought this too our attention as well this week. CLICK HERE (Eric in Willow Grove will be real happy)
•Having beard on my face on a daily basis (and also from trying to do a Mustache March on '09) I enjoy a good article about facial hair. Tell me it's about facial hair in comics I'm totally in. CLICK HERE
•Here's a cool look at an artists process. Eric Canete (the man drawing Luke Cage in Philly in the New Avengers mini…#2 comes out next week btw) draws and explains how he drew the extended Bat-Family. CLICK HER
•…one Shield to bind them! Elrond, the Elf, to play baddest bad guy Nazi, since Adolf himself (I hope Cap punches him in the face like on Cap #1's cover) in Captain America movie. Hugo Weaving is the Red Skull. Look at this guy.
•This week kicks off the Return of Bruce Wayne…The Source has a preview of Batman in Caveman times. An acquaintance of mine who works for DC (and on this book) said this book gets crazy awesome! (and i cant wait)  Check it out! CLICK HERE
enjoy the weekend everyone!