Last week I blew it with keeping up the regularly scheduled A Character To Learn More About column…post…update…whatever. Here's this weeks to be followed very shortly by a Special Edition to make up for the slacking!
OMAC (Buddy Blank, the One Man Army Corps)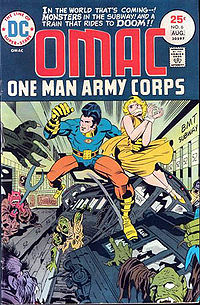 You gotta love a character created by Jack Kirby in the '70s. (all of his stuff then was great…but hey i am real biased when it comes to 70s Kirby)
•Read his Wikipedia Entry HERE
•Read his Comic Vine Entry Here
Ah heck I'll go for two this week! (thats what 70s Kirby does to me)
The Infinity Man
•Read his Wikipedia entry HERE
•Read his Comic Vine entry HERE
And as always if there are any ideas for whom you may like to see here in this section shoot me an email! [BRiAN] …or stop on in!