Whatever. So I've missed a few weeks of writing down what I wanna read on Wednesday. And I am writing this one far in advance so I have no insight into what the books are actually like. Also one of them is a trade. Tomorrow new comics come out!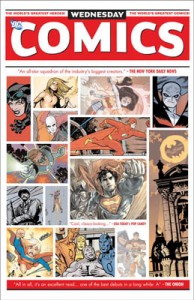 •Wednesday Comics Hardcover: This thing may be a bit of a cheat when it comes to being a comic that I am looking forward to reading, but this is my choice so deal with that. This is one of the most amazing things that DC Comics has done since taking Jack Kirby away from Marvel.
Giving huge names in the industry a full sized newspaper page to tell a story, a page at a time, a week at a time in an age where print is dying and people want their comics to fit on a iFad screen (that cant unfold for crap…heh) is a great risk that made for an amazing read. The layouts could be more than an old school 9 panel grid (heck Paul Pop did circle panels in his Adam Strange story) and the size of the artwork actually became important in the storytelling.  Being presented in an oversized (11″ x 17.5″ is HUGE!) amazing hardcover for only fifty bucks is also amazing! Get ready to get your DC on with this sucker!
WEDNESDAY COMICS HC, Too Many Awesome Writers and Artists to List, 200 pages, full color, $49.99, DC Comics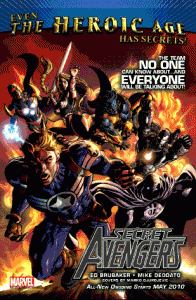 •Secret Avengers #1: I am going to admit this book scares me. I like Ed Brubaker. His books tend to make it to me reading list if not sit at the top of my reading list on the weeks they hit the shelves. But this book scares me. Why you may ask? I will tell you why. I kinda think this team sucks. I am a fan of teams. I like the A-Team.  Leagues of Extraordinary Gentlemen is one of my fave comic concepts of all time (i love to build sweet teams). Team America Rules. I LOVE the Original Dream Team. But for some reason this team was cooler as blacked out silhouettes with words next to them than they are now that they have been revealed. I just have to have hope that there is a plan. Trust in Brubaker and hope that he and Steve Rogers have a plan. I don't want this to come off as ragging on a book that I haven't read yet 'cause I'm not. I am just a little scared/nervous. Anyway I still really wanna read it tomorrow!
Oh and before i forget! Mike Deodato on art is really exciting. His work on the Dark Avengers was some of his best. Look at THIS page layout! Heck his Molecule Man story was great to read month to month just to see what he was going to do stylistically. As a creative team this book should most def be bringing its' A Game…one might call it a Dream Team.
Secret Avengers #1, Ed Brubaker/Mike Deodato, 32 pages, full color, $3.99, Marvel Comics