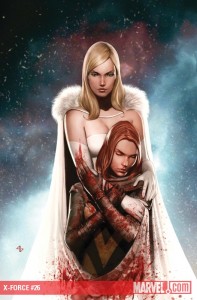 Chapter five of X-Men Second Coming (X-Force #26) hit the shelves this week and it was Craig Kyle and Chris Yost's turn to write a part of the story that returns Cable and Hope to the Marvel Universe.
First, prepare yourself for the ultimate sacrifice on the part of a longtime member of the X-Men, who gives their life to protect Hope from Bastion's forces.  This issue of Second Coming was just as entertaining as the previous four chapters, and continues to push the story forward towards it ultimate endgame.
Mike Choi provides the art for a story that jumps between Utopia, Bastion's base of operations, Indianapolis (where Wolverine and his squad provide a diversion), the New Mutants and of course Hope.  If you have not given Second Coming a chance yet, jump on the bandwagon now, you will not be disappointed.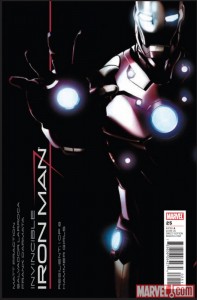 Matt Fraction's Invincible Iron Man #25 dropped this week and was one I was looking forward to after the end of Stark Disassembled.  It is really interesting to see how Tony Stark is handling everything with the huge blank spots in his memory and how he plans to build back his empire and his suit.  I was not disappointed as Fraction has really found a nuanced approach to such a bombastic character.
Salvador Larroca's pencils are top notch once again in an issue which ultimately is a great jumping on point for anyone who is looking to see what all the buzz is about on Fraction's run, or just caught Iron Man 2 and is "hooked."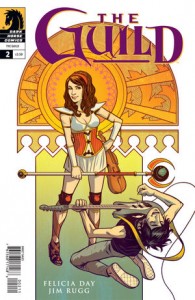 Last but not least this week is Dark Horse Comics The Guild #2 be Felicia Day.  If you are a fan of her web-episodes on her website, this comic is for you as it provides a nice backstory on mainly her character of Syd, but of how her entire Guild came to be, and why she is absorbed in this virtual world.
While we know Day knows how to tell a tale, its nice to see those skills translate to the funny pages.  If you have yet to check out her online series, which is free, now is a great time to jump on board.