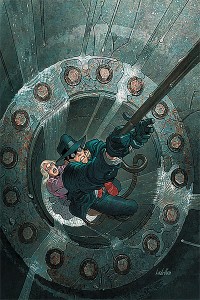 Once again DC Comics has decided to relaunch Will Eisner's The Spirit and the comic-reading world is a little better off for it, especially if Mark Schultz continues to write issues like his debut in the First Wave title – The Spirit #1 this week.
Not a typical tights and flight comic book, The Spirit takes place yesterday in another era.  Denny Colt's Central City is murky and dirty and looks a lot like today's Gotham City.  Colt is The Spirit and thwarts the crime in the evening like a certain caped crusader we all know.  If you are thinking The Spirit was modeled after Batman, turn it around.
Schultz does an excellent job reintroducing the character to hopefully what will be a new audience.  He writes the character with an irreverent charm and makes Colt fun and hard not to like.
Now when a writer is on touch with the character, all you need is an artist who gets him too for the perfect combination of Spirit presentation.  Luckily issue one accomplished this goal with Moritat supplying some awesome pictures.  His pictures are dark and murky when need be, but come to life even more when we first see Ellen Dolan and Denny Colt in the daylight.  Gabriel Bautista's colors are the icing on the cake.
The best compliment I can pay Schultz and Moritat on this book is that it reminded me a  lot of Darwyn Cooke's Spirit run in that I had a lot of fun reading it, and can not wait until the next issue comes out.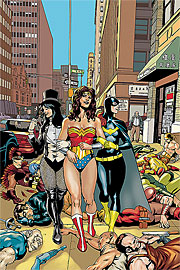 For my second selection this week, it is a shame that DC's advance solicits for Brave and the Bold #33 did not do the book justice.  I feel like J. Michael Straczynski (who has that uncanny ability to turn every character into literary gold) is finally hitting his stride at DC (and just at the best time since he is about to take over two of the companies three flagship characters).
Billed as a ladies night out, Brave and the Bold #33 is a poignant tale of possibly messing with fate as Zatanna grabs Wonder Woman and Batgirl for a night on the town.  Straczynski writes the story in such a way that you really don't appreciate what the story is really about until the end, which makes it all the more awesome.
Cliff Chiang's art is a nice compliment for the issue, and does true justice to Straczynski's words.  Not an easy task considering its the duo first-ever team-up.
So, if you are looking for a nice change of pace and a glimpse into these super characters when they are just acting like you and I (except with model hot looks), then give Brave and the Bold #33 a look.  I highly recommend reading this week's edition especially if you are fans of Alan Moore's The Killing Joke as this issue supplies a nice little coda to that story.