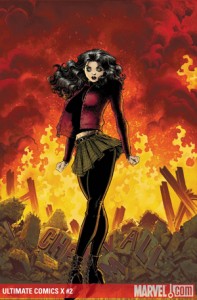 Jeph Loeb's writing has taken a bit of a hit in the past few years, but it appears he may have turned a corner this past week with Ultimate Comics X #2.  This story reminded me of his previous Marvel color tales (Spider-Man Blue) because it had a lot of heart.
If you have not given Ultimate Comics X a chance yet, you do not need to read issue #1 to appreciate this month's story.  Loeb, teaming with none other than Arthur Adams on this bi-monthly book, pens a tale of sorrow and loss in a very eloquent way.
I love his story narrative in both issues of the run, narrating the tale from one character's point of view, and not necessarily the main character's.  I don't want to give to much away, but Ultimate Comics X #2 builds upon the premiere issue in introducing us to the new mutant players in the Marvel Ultimate Universe.
If you liked Loeb's class color titles, you will appreciate the story he writes here.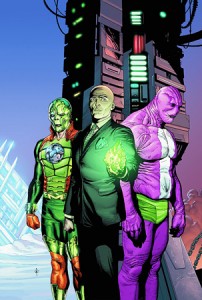 Now for a completely different Geoff, Johns that is, who has been a busy beaver for DC with some stories dealing with Green Lantern and Flash.  How he finds time to write so many titles, and at such a high quality, is beyond me.  He must me drinking the same stuff Brian Michael Bendis is consuming at Marvel.
Anyway, I wanted to point out the awesomeness that is Superman Secret Origins (#5 shipped this week).  Along with Gary Frank, Johns is sharing his take on the updated Superman origin.  I know a lot of readers are bypassing this tale because of all the retcon craziness and that is a shame because this has been a fun ride.
Frank is drawing Superman exactly like Christopher Reeves and there is something nice and sweet about that.  My co-worker believes I liked the book in the beginning because it reads like and episode of Smallville, and maybe that is true.  But to say that would sell Johns' effort short.
Issue five introduces General Lane into the equation and how he wants to deal with the alien threat that is the Man of Steel.  Of course, Luthor is there manipulating all the pieces as best he can while Clark continues to build his alter ego's clumsiness in light of Lois' suspicions.  It's a really fun new take on the beginning of Superman's story in the DC Universe that really has not been covered to death.