It's been so warm and sunny outside here in the Philly area, and truth be told I just picked up Expiration Date by Duane Swierczynski (friend to BNW/comics and hard hitting fiction writer extraordinaire) and because of this perfect storm of sweet things I have totally ignored the internet…well not totally…
Well not totally…it's more like I have just not given it my full attention. I mean who's really inside on the innernette when it's beautiful outside!? Usually that answer would be me, but after this winter in the greenhouse I wanted to enjoy some warmth.
•First off we have an 8-bit version of Dr Horrible by Doctor Octoroc (who spun tunes at our videogame show in Old City last year!) This video is so awesome! Rob and I can't figure out how long it had to take him to make it but we are sure glad he did!
•Here's some cool Batman stuff from DC's The Source blog
•This makes no sense to the right her that Marvel released today is a new teaser that I cannot make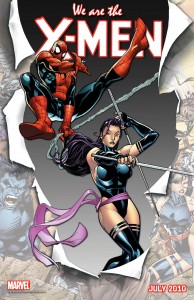 heads or tails of…I mean is Spidey on the X-Men now?…
•They announced the Eisner Nominations the other day. Check out the list over at Newsarama.com
•Another X-Man will die teaser image was leaked this week and is posted below. Wonder who it is? That sheet looks a little small. Also- READ THE SECOND COMING SERIES.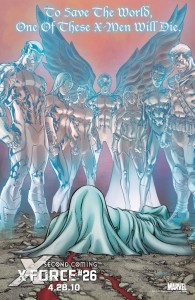 •Also via Newsarama.com we got the Hugo Award Noms this past week. Check them out here
•I found this out last week after I had already posted these links and things…Robin Williams likes DMZ apparently. Check out the video here
•You know I like me some Hellboy. Check out this interview with Mike Mignola over  @ Comicbookresources.com
•Zantanna can speak in reverse.
•Marvel also released more images of the Secret Avengers…this time showing 2 of them. Does anyone else think that Marvel is just going overboard with all of these teaser images…
•Box Brown drew Sasquatch today
•Brian Wood tweeted an image that Ryan Kelly drew for their forthcoming New York Four sequel
•You all know how I love Frankenstein (if you didn't know that now you do) so I was thrilled to get  sent this link this week (one of those times i was on the internet)
•American Vampire writer Scott Snyder is writing this weeks Iron Man Noir. Check out a preview here
•Another one of our friends has a blog. This one is about cupcakes. Thanks Mr. Olstein.
•Philly Comix Jam event @ BNW Old City coming soon!
•I think this movie is going to rule. It even has Michael Keaton in it!
•SlashFilm also has some images from the upcoming Losers film adaptation over here
•Philly's own Tim and Eric (of Awesome Show fame) did some amazing Old Spice advertisements that you should totally check out!
•Tesla in Drunk History you gotta watch this (but beware its NSFW and someone does throw up in this video)
I guess that's all for me this week…as I said I was very distracted by the outside and an awesome book. If anyone knows any cool things that I should be sharing next week shoot me an email [BRiAN]