Now that Brave New Worlds took that next step and got itself a new fangled Twitter Account (that i am sure you are all following…that is if you do in fact have a twitter account yourself) you out there in internet world should have an even greater pulse on all things BNW. Links!
•Scott Snyder, author/creator of American Vampire from Vertigo Comics, just posted a link about his upcoming Iron Man Noir series from Marvel Comics.
•This video was brought to my attention because of my love for the films of the great body builder/actor turned governor of California Arnold Schwarzenegger. It's 9:59 long and NSFW but full of 1 liner glory! Check it out!
•Here's some old n crazy Mexican Comics
•Legal Trouble?! You'd better call Saul! I don't watch the show Breaking Bad (mainly because i don't watch tv) but I hear real good things. This site is somehow connected to the show and is totally hilarious.
•I forgot to toss this in the pile of links and things from last week and by now I am sure that you have seen it…but if not here you go! A to Z of Awesomness!
•If only this animated gif had sound…
•If you like me love Mega Man and all things Mega Man, and you've probably picked up these books too 1 / 2 / 3 from BNW already, then you will love this video montage.
•Endor speeder bikes?! No just dudes on Mountain Bikes but still awesome!
•Holy sweet April Fools!
•Check out this guy's art! Frankenstein as a Luchador!
•Wait did I just mention Mexican wrestling and monsters…check out this interview with Mike Mignola over @ Comic Book Resources.
•One of our long time customers abandoned us for the Left Coast (Seattle to be exact) but now reviews old school games on his blog. Give 'em a read!
•Also from over @ CBR there's an interview with the X-Men Second Coming guys. If you dint read that book this week you are missing out on some awesome!
•If you like Brian Wood's DMZ series then take a look at this retrospective on the series. It's like a directors commentary for a comic book! (thanks IGN)
•Marvel Announced their iPad stuff yesterday and it was confirmed today.
•First Friday Night in Old City features the Out to Dry art show! When our artist fell through the Philadelphia Cartoonists Society stepped up big time and threw together a show for us in UNDER NINE DAYS! The Show will kick off around 6pm and run until things die down (usually between 9 & 10 pm). Come check it out!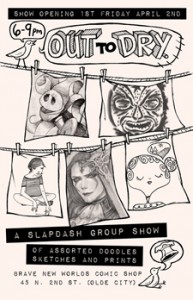 •This coming Monday in Old City!