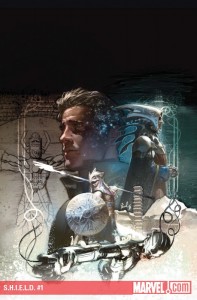 Two new amazing releases find comic shelves this Wednesday.  Coincidentally, one comes from column A (Marvel) and one from column B (DC).  Now play nice fellas.  Hit the jump to find out more.
Galactus.  The Brood.  The Celestials.  Remember when these threats first surfaced in the Marvel Universe only to see the Fantastic Four, X-Men and Avengers smack them down, Darth Vader style?  Well, forget what you know, they were defeated way back in the day before coming back for more.  But who stopped them the first time – that would be S.H.I.E.L.D., but not Nick Fury's team.  No, the original S.H.I.E.L.D. consisted of some of the greatest minds our planet has ever witnessed – Leonardo da Vinci, Galileo and Isaac Newton, to just name a few.
Intrigued?  You should be.  From the mind of Jonathan Hickman comes S.H.I.E.L.D. #1 this week, live the new Marvel insanity.
For a preview of the first few pages of the issue, click here.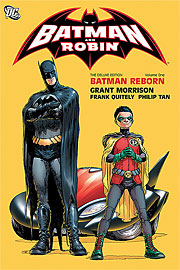 Also coming out this week, DC Comics finally gets around to collecting Grant Morrison and Frank Quietly's latest collobartion – Batman and Robin Deluxe Edition Volume 1 – Batman Reborn.  This deluxe hardcover includes the now-classic first six issues of latest chapter in the saga of the Bat.  Bruce Wayne is gone.  Long Live Batman!  It's a brand-new Caped Crusader, and a brand-new Boy Wonder from the mind that gave us Final Crisis, All-Star Superman and secondary mutations (New X-Men).
Make sure you stop by either Brave New Worlds location (Old City and Willow Grove) this Wednesday, April 7 so you do not miss out on any of the latest buzz.