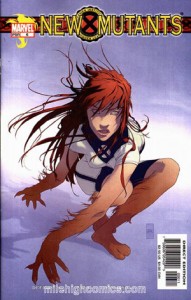 After reading a classic X-tale last week in Uncanny X-Men #132 it seemed only fitting that this week's blind pick was a new X-era story in New Mutants #6 (Volume 2) from 2003.  This title was the launching point for New X-Men Academy (and subsequently New X-Men), which had great promise but unfortunately was shelved at the conclusion of Messiah Complex a few years back.
It is interesting to note that this title also gave birth to the latest run of the original New Mutants (after a failed attempt with a Young X-Men book that ran just 12 issues).
But back to this week's pick – New Mutants #6.  Written by Nunzio DeFelippis and Christina Weis, New Mutants #6 concludes the opening arc that introduces us to Laurie Collins, Sofia Mantega, Kevin Ford, David Alleyne and Josh Foley.
This issue has a lot of heart and I felt neatly ties up the opening arc up while leaving a few threads dangling for future stories.  DeFelippis and Weir definitely showed they could handle multiple characters and plots in each issue.
Issue six was a satisfying ending to the story that saw the team lose one member, and gain a new one.  It also set the table for Danielle Moonstar's ongoing story arc with the next generation of mutant heroes as she struggle with the impact she believes she is having with the youngsters.  She sees herself as more of a warrior than a teacher, but Xavier has a way of showing his students the true impact they have – and thus at issue's end everyone is living happily ever after (at least until next issue).
Mark Robinson supplied the pencils on this issue while Pat Davidson and Scott Ellmer ink the layouts.  Robinson's style reminds me of the angular world of Rick Leonardi and works for this book.  The action sequences are strong and the page layouts are not just a simple panel-to-panel straight-on view but more of an angular (my new word today) look at this world.
Josh Middleton was on the covers to the first six issues spotlighting one of the original group of New Mutants, although only two appear in the actual issue.  Wolfsbane was the subject for number six and it was a beautifully done piece of work.