"Follow me! Stop on by! Hop a carpet and fly!…" (from Marvel's…er Disney's Aladin) let's go take a look at this wild wild west that we call the internet.
•The Losers hits theaters this weekend (click here to see the trailer HERE). A movie based on the ol' A-Team-esque comic book from Vertigo by Andy Diggle and Jock seemed like an awesome idea to me when I first heard it was optioned. Though being a huge fan of the comic series (i own every issue) I was a bit worried when I first saw the trailer. Now that reviews are rolling in I am being reassured that it's good…if not real good.
Check this review from UK IGN HERE
And then this one from IO9 HERE
•Next Saturday (May 1st) is Free Comic Book Day! Brave New Worlds and many other comic book shops all around the country (if not the world!) will be giving out free comics and running deals as well as having all sorts of cool things going on throughout the day. Check out what we've got going on at both of our locations by clicking HERE
•The weekend following FCBD the much anticipated Iron Man 2 hits theaters (there is an Iron Man/Thor book out on FCBD that looks real sweet too). I'm really excited for it but not as excited as I am for Predators  (which will be my next link heh). Check out Iron Man 2 stuff HERE
•Over at the Predators movie site they have new character based teasers online…and they ARE teases…I wish this movie was out now. Check em out HERE
•In some odd comics meets tv news a good friend to the shop was watching South Park the other night and realized that they were stealing scenes from The Killing Joke…look:
•
This trailer apparently just came out for the Under The Hood Movie. Definitely a must watch trailer click
HERE
•
Over at the Comics Alliance they posted a story about a kid finding boobs in an old Spectre comic. Click to not understand why it's a big enough deal to call the news (local news loves to sensationalize things dont they)…
HERE
•
Who doesn't love watching little kids take hard hits on the football field?
HERE
•
This baseball player watches the Sandlot and reads Superman comics.
HERE
•
There's another movie coming out this year that is like the A-Team or the Losers called the
Expendables
. This film features all of the action stars that I grew up with in one place at the same time. Someone made the trailer for it even better by adding even more stars! Click
HERE
•
Jeff Smith's latest epic full of parallel dimensions, science, Tesla, art stealing and even a Frankenstein cameo had its' second volume come out this week ($15, black & white and oversized
!
) Comic Book Resources has an interview with the comics god
HERE
•
They also talk to Matt Kindt about Super Spy which has a new book out next week. Check it out
HERE
• Maxim has a sweet list of the best comic book moments in non comic book movies. Check that out
HERE
(though i was never a fan of the Superman diatribe in Kill Bill)
•
That fashion
guy
from that fashion
tv show
tears apart Mr. Miracle's costume
HERE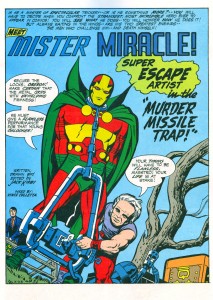 •
I forgot to add this last week. This time traveler was not careful and was caught in a photograph! Thanks BoingBoing. Click
HERE
•
And lastly I chuckled when I saw this image.