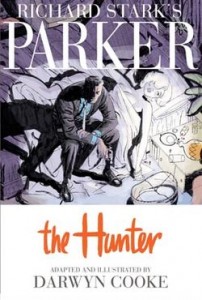 Get your dancing shows ready because the date has been set (Saturday, April 24), the time has been penciled in (7 p.m.) and the next book in the Willow Grove Book Discussion has been selected.
Darwyn Cooke's adaptation of Richard Stark's Parker The Hunter will be the next book chewed up and spit out (so to speak) by our group of top notch critics.
Brave New Worlds Willow Grove has plenty of copies in stock, if you have not already picked up this classic tale of a man who hits New York head-on (because is there really any other way).
Granted he hits it head-on like a shotgun blast to the chest, he is betrayed by the woman he loved and to add insult to injury, he is double-crossed by his partner.  Okay, at least his dog doesn't leave him.  Then again, he did not have a dog.
Even if you have not been to a Brave New Worlds book club discussion, now s the perfect time to come out and meet some people who like to talk about one of our favorite things in the world – the funnies, or comics.