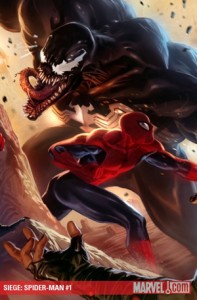 Brian Reed's Siege Spider-Man One-Shot is the fourth of five Siege-related one-shots and ships this week, with art by Marko Djurdjevic.  During the battle of Asgard, Spidey comes across his old nemesis – Venom.  The battle in the words of the mighty Volstagg is, legendary.
Brave New Worlds also has plenty of the previous Siege one-shots available – Captain Ameirca, Loki and Young Avengers, all which shipped last week.
Meanwhile, Green Lantern's rebirth receives the DC Absolute treatment this week with the release of Absolute Green Lantern Rebirth, collecting the original six-issue mini-series by Geoff Johns and Ethan Van Sciver.  Along with the story of Hal Jordan's return to the living and back to his first, best destiny, DC also collects the following in this edition – Green Lantern #1 preview story from Wizard Magazine and a Darwyn Cooke tale from Green Lantern Secret Files 2005.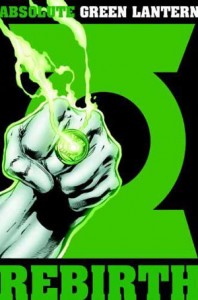 If you are more a traditionalist, or are not ready to pull out the $75.o0 for the absolute volume, try DC's new printing of Green Lantern Rebirth, also on shelves this week, where the start of the Blackest Night saga truly began.