This week I'm going with an old fave and a new series that Rob and I have been anticipating for a while now. Check 'em out in this weeks 2 Comics I Wanna Read Tomorrow. (one book is not Spider-Man Fever…though that one does look really sweet)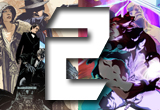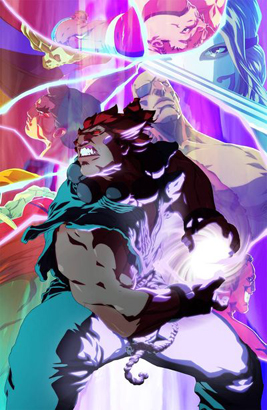 •Street Fighter II Turbo #12: These Street Fighter comics are a lot of fun and Udon Comics know it. The love for the games, the characters and the threadbare/evolving/simple storyline that runs though all of the Street Fighter games is evident in every single issue. Issue #12 here is the end of this run on Street Fighter II (for now) and is an epic Ryu vs Akuma brawl for it all! If you are not a fan of the games this will probably be lost on you (and if you are Rich…then you liked the Street Fighter Legend of Chun-Li movie and this is totally lost on you…) but if you are a fan of the games then this issue, along with #11, is the cut scene into final boss battle into final cut scene that you always wanted as a kid playing this game on SNES. Ken Siu-Chong (writer) and Jeffrey Chamba Cruz (art) offer up yet another awesome edition to the SF comics world.
Street Fighter II Turbo #12, Ken Siu-Chong/Jeffrey Chamba Cruz, $3.95, 32 Pages, Full Color, Udon Entertainment Corp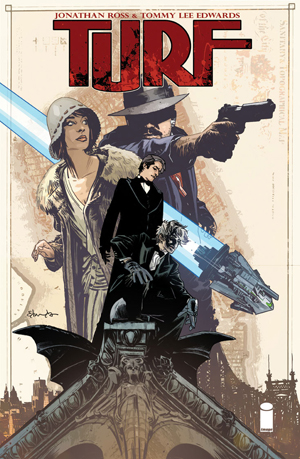 •Turf #1: From Image Comics this week we get Turf #1. The solicit information claims this about the book (and when i read this i couldn't wait to get my hands on it!):
"A four- issue hard boiled noir crime thriller with girls, guns, fangs and aliens.
(see what i mean. short. simple. awesome sounding. wait there's more)
New York, 1929. The height of prohibition. The cops turn a blind eye while the mobs run the city, dealing in guns, girls and illegal liquor. But the arrival of the mysterious Dragonmir Family from Eastern Europe with more of a taste for blood then booze co-incides with a series of brutal attacks on the gangsters themselves.  As the gangs fall before the fangs, only handful of mobsters survive. But an unlikely alliance formed between tough guy Eddie Falco and a character from a LONG way from New York City – a long way from Earth in fact – offers the humans a glimmer of hope. As the strong willed young reporter Susie Dale from the Gotham Herald tries to survive in the middle of the maelstrom, and an ancient prophecy unfolds, no one can guess who's going to win the battle for this particular slice of Turf."
Now with a solicit like that and Tommy Lee Edwards (Marvel 1985 and Bullet Points [both on our Discount Racks btw!]) I am hooked. I've also looked at the issue (haven't read it yet) and it looks like a lot of story/bang for you buck (which is only $2.99!). This looks like a must read for anyone who is a fan of Awesome!
Turf #1, Jonathan Ross?Tommy Lee Edwards,  $2.99, 32 Pages, Full Color, Image Comics