This week I will admit to being a slacker when it comes to this little addition to the blog. There's just too much to wanna read that I'm having trouble picking. Also it's been a long day.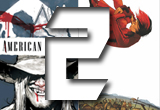 Here's the list of the books that I am excited for this week (see i told you i'm slacking…it's literally just a list….for this slacking tho i will write something else this week)
American Vampire #2
Green Lantern #53
DV8 #1
Siege: Spider-Man 1-Shot
The Spirit #1
Joe the Barbarian #4
X-Factor #204
X-Men Legacy #235
#Doomwar #3
Crossed: Family Values #1
The Brave And The Bold #33
JLA #44
Tiny Titans #27
Ultimate Avengers #6
Dark Wolverine #85
And there you have it folks. My list of comics this week! I've  forgotten to mention the BA trades out this week…like RASL vol 2 and Paul Pope's 100%….see you at the shop!