Let's dive into the stack of comics that come out tomorrow and see what I'm pretty sure I will end up reading first.
•Siege: Loki: If you have been reading Siege (like most Marvel fans are) then you may have had a little tickle at the back of your brain saying: HEY! Where's Loki through all of this?!…Maybe it's just me. Either way last time we saw him he was messing around with Osborn's head on that last splash page of Dark Avengers #12 (or was it the Siege Cabal 1-shot? or was it in Thor…what's the proper reading order/timeline anyway?). I'm hoping that this issue will flesh out some of the dealings and pies that Loki has gotten his fingers into during this mess that everyone has made of Asgard.
Kerion Gillen and Jamie McKelvie seem like an odd team for a main super hero Marvel Uni proper book. If you have read Phonogram volumes I and II then you know how awesome they are as a team (and if you haven't you should totally check those two volumes out!) but also how different those books are compared to Siege. We shall see how it all works out tomorrow.
Siege: Loki 1-Shot, Kerion Gillen/Jamie McKelvie, $2.99, 32 Pages, full color, Marvel Comics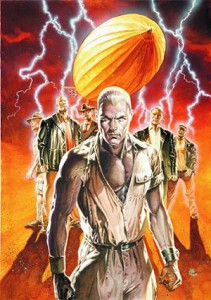 •Doc Savage #1: The recent re-introduction of Doc Savage to the world of DC comics in the Batman & Doc Savage 1-Shot and First Wave #1 has made me one happy comics reader. While I know very little of Doc Savage history/story as a whole, compared to Batman, I've always been really interested in him and his supporting cast. I am hoping that Paul Malmont has a grasp on the character and his 1930's world the way that Brian Azzarello has. There is even a Second Feature story (as DC calls 'em) in this issue about Justice, Inc., whom I know nothing about so I am excited to see some new life breathed into them. Bring on some pulpy goodness!!
Doc Savage #1, Paul Malmont/Howard Porter, $3.99, 40 pages, full color