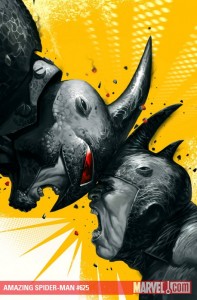 The second part of Joe Kelly-Max Fiumara's Rhino story finished in this week's Amazing Spider-Man (issue 625) and it was heartbreaking.  I know there are people that don't like Kelly, and some who don't like Fiumara's art style, but what can I say, the two of them together on this story were awesome.
Of all the Gauntlet tales going through the web books, this is by far my favorite.  I think one of my favorite parts of the narrative was the issue was seen through the eyes of Norah, the will-she or won't-she be the new lady love in Pete's life.  I mean God forbid he actually dates someone again like a normal person.  But that might lead to marriage and we could not make two deals with the devil, could we?
There is also a nice Mary Jane moment in the opening pages that you should not miss.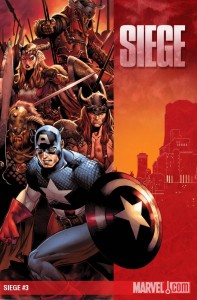 Where Spidey was all about heart, Siege #3 was all about the spectacle.  And trust me, it does not disappoint.  The end of the Dark Reign occurs in this issue, and there is still on more story to tell, and that one promises to be truly remarkable (I hope, but in Bendis I trust).
Meanwhile, a new title caught my eye brought to us by the folks at Vertigo, who have been dropping some great new titles lately (Daytripper anyone?).  American Vampire #1 premiered this week taking another unique look at the creature of the night phenomenon.  And who better to write some of this tale than the master of the night, Stephen King.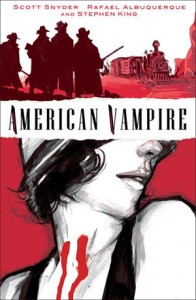 King's story was not even the best.  That honor goes to the book's main storyteller Scott Snyder who teamed with Rafael Albuquerque for a fresh new spin.  Snyder's story was titled "Big Break," and for Hattie and Pearl, the old saying goes, be careful what you wish for.
Last but not least this week for me was X-Men Legacy #234.   This has been a take-it or leave-it title for me for awhile.  I know a lot of people love everything Mike Carey writes, and I am not a hater, its just, not doing it for me.  That said, this week's issue read like a day in the life of Rogue, but for some reason it resonated with me.  Due to a convenient plot twist Rogue has to take on some of the Cuckoo's powers and the results are quite revealing for Rogue and everyone around her.  It's a nice issue that further develops what the character is experiencing as her role with the X-Men changes and she grapples with the new developments with her mutant abilities.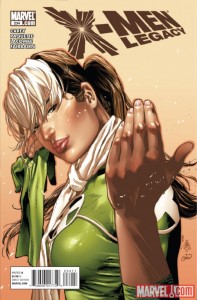 Enjoy!