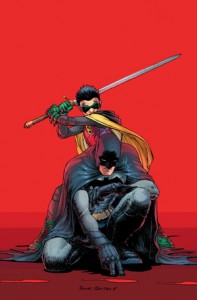 Finally a caped crusader issue that I could really rave about, plus my ongoing rants about the latest new thing by Vertigo this week.  Grant Morrison's Batman & Robin #10 and Daytripper #4 were what I liked this week.
As soon as I turned the first page off the opening panels of Batman & Robin onto the splash with Damian running a meeting at Wayne Enterprises I knew this was going to be a special issue.  This title is really starting to pull together the plot threads Morrison has been planting since it began last summer and should culminate with the eventual return of Bruce Wayne himself.
That return will no doubt have a major impact on all the characters in the Bat World, none more than Damian, who is beginning to settle into his role as the new Robin  But of course, Mother dearest has other plans for her little spawn.  If you are interested in delving into the psyche of Damian, this is the issue for you.
As a plus, Andy Clarke has settled in as the books regular penciller and delivers a strong effort once again telling the story that Morrison has so brilliantly laid out.
Speaking of brilliance, if you are not reading Daytripper, you really need to start. Fabio Ba Moon and Gabriel Ba continue to bring it each month and the latest issue number four continues to excel.  Daytripper is only going to run for 10 issues, and continues to fly off the shelves.
Without giving too much away, each issue begs the question – how is this going to happen next?  However, more importantly is trying to figure out where it's all going.  So far the ride is better than any episode of Lost ever produced.
Trust me, if you have not picked up this book, you are really missing out.